In honor of Valentine's Day approaching, I thought I would share with you some tips on dressing to attract a man. We all want to look beautiful and sexy but there is a fine line between sexy and slutty. I have lost count of the many times I have met someone because of something I was wearing. Last week while at Bar Boulud a gentleman spoke to me because of my orange dress. He complimented me and noted the color matched the napkins. It was a great quirky moment and it made me realize that men really do respond to women in colored dresses more so than the little black dress. To me a black dress is for hiding and what's the point in hiding?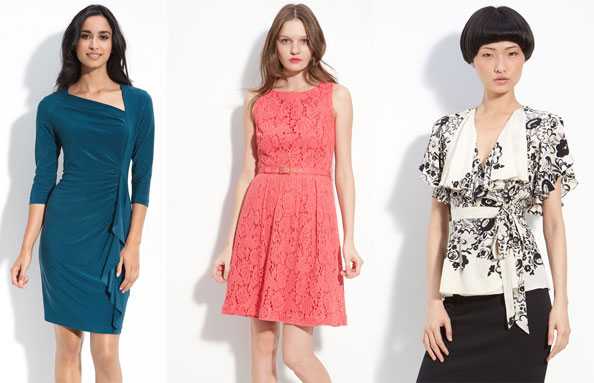 1. Identify one great feature to play up and work it. A sweatheart neckline or V-neck is a great start. This silk blouse by Tracy Reese is great for black haired ravens.
2. Try a flirty wrap-ish dress in a flattering color. In this economy, you should choose a dress that you can wear again in the future, such as this Adrianna Papell tiered chiffon option from Lord & Taylor. Other great styles include: an animal print wrap dress from Laundry by Shelli Segal, an asymmetrical jersey sheath dress from Alex & Ava, and a coral number with lace overlay by Trina Turk.
3. Try some sexy earrings to play up your eye color. For example if you have bright blue/green eyes and a round face try these multi-stone drop earrings by Oscar de la Renta. Or if you have brown eyes and square-ish face, these earrings from Etsy are a great accent.
4. Ruching details are flattering and hide bumps well. This Maggy London dress is a perfect example.
5. Pick one area to flaunt, not two. For example, if you choose to show off your chest with a low-cut neckline don't wear a mini skirt. If you want to show off your legs with mini skirt go more safe on top. It's all about balance.
If you would like to learn more tricks and tips to attract the perfect man in your life sign up to hear more about my SEXY YOU program.
Be the first to hear about this exciting new program. SIGN UP HERE>>http://eepurl.com/QriUf