How often is the word 'Stylist' thrown around? What does it really mean? Who are the best?
A stylist is a creative position who usually collaborates with the clients, photographer, art director, makeup artist to come up with the visual concept of the project. It's their job to make the people and also the clothing and accessories look their very best in the shot.  Most stylist's are personally stylish themselves while some just wear black for practicality.
In my business I strive to take the best of each role and meld them together except I don't do hair or makeup.
Fashion Stylist: A person who supplies and curates the clothing and accessories for all the models on a photo shoot or video. They often borrow clothing from designers and are responsible for the care, pinning to fit, and steaming of the garments. Sometimes they have teams of people work under them. Famous examples at the top of their field-Rachel Zoe, Grace Coddington, Camilla Nickerson, Alex White, Sarajane Hoare, and Annabel Toleman. If you are interested in becoming a Fashion Stylist pick up a copy of my e-book Secrets of a Fashion Stylist and learn how to break into this competitive business.
http://bit.ly/1kRGBxz

Fashion Editor: Works for a magazine curating looks and spreads for editorial photo shoots. Sometimes synonymous with 'fashion stylist' depending on the size of the publication. Magazine's like Vogue have many different fashion editors who usually plan the photo shoot concepts and don't necessarily work with the clothing and many fashion stylists who are more hands on.
Wardrobe Stylist: A person who supplies and curates the clothing and accessories for the actors in a movie or commercial. Generally shops for the clothing rather than make the costumes-Famous example-Patricia Field who styled Sex and the City, the Devil Wears Prada, and many more.
Costume Designer: Talented designer who designs, sews, and oversees all the costumes for a film. Top of her field is Ann Roth who did the English Patient, The Talented Mr. Ripley, The Hours, Mildred Pierce, and 99 other projects.
Prop Stylist: Works on photo shoots and videos who buys and rents the props or objects to accompany the looks in the shot.
Tabletop Stylist: Someone who styles and arranges  and makes the 'goods' look beautiful in a shoot. Often will polish, arrange items so they sell. Most likely home goods like vases, flatware, ect.
Food Stylist: Same as above but with food. Make's the cheese say cheese!
Personal Stylist: A person who independently helps individuals shop, curate their closet and define/refine the client's image.Famous example on TV-Trinny and Susannah. Need a wardrobe overhaul? If you would like to have me as your personal stylist check out my current offerings.
Personal Shopp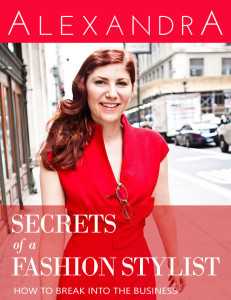 er: A person who works for a store usually on commission. They help you pick out clothing and accessories to purchase. Often they pull items in advance for you so you arrive to a full dressing room. Veteran and expert example now at Bloomingdales is Evie Gorenstein who became famous for working with Iris Apfel when she was with Loehmanns. See more info in this post.
Image Consultant: A role which started in the 1970's because previously how to dress was only taught in modeling schools. Educating individuals sometimes famous of what looks good on them, why, and how to project a desired image. Often also makes makeup and hair suggestions and often includes a complete makeover. To be a certified image consultant one has to attend and complete training in color and shape analysis. Which means they understand the science behind what looks good on people and why. I personally completed my training with Julie Cunningham color in 1999 and use the science with all of my clients. Here is more on the foundation of how I work and what makes me a different kind of stylist.
Hair Stylist: Someone who works in a salon either cutting, coloring, or styling hair. Also can work on photo shoots, commercials, and movies doing hair styles for a desired look. Famous top of their field: Edward Tricomi of Warren Tricomi, Frederick Fekkai, Sally Hershberger who's about $600 for her famous cut.
Looking for a style makeover with a Fashion Stylist? Click here to schedule your complimentary 30 minute style assessment call dedicated to find out how you can transform your style and end closet overwhelm today.