A blog reader asked, "Are you watching the Emmy's"?
And the truth was no, I was not watching the Emmy's.
In truth I was taking a relaxing bath to wind down from the whirlwind of client work which is gotten me all hopped up.
It's that pre-fall time where my excitement is often hard to contain that I need a bath to come down and sleep after all this stimulation.
But the morning after I did want to see the fashions of the Emmy's so I googled 'best and worst' and pulled up a few articles.
Part of me wants nothing to do with this world.
And another part loves the fantasy of it.
Don't we all kinda want to see over the top gowns?
The FASHION is entertainment.
But not reality.
#1 best dressed in a gorgeous red gown was Nicole Kidman which I agreed with. I've enjoyed her performance in Big Little Lies and thought she looked radiant and perfect in every way.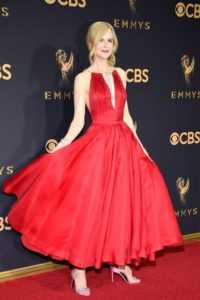 (Reality is the process to get that perfection is often weeks of preparation, tailoring, long hours in the hair and makeup chair, and other 'services' which you don't want to know about to be that thin.)
Then I look at the worst dressed and it's Jane Fonda.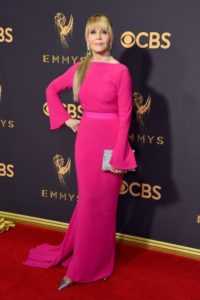 The professional stylist says:
The neckline of the dress is making her boobs look low and the peptol visual pink is too bright for her.
Lose the necklace, the earrings are enough of a statement.
 Yes she looks kinda like a covered up Barbie doll with hair and makeup, totally age inappropriate.
The whole look feels fake and off like how could her hair possibly be that long?
But then I'm mad they are picking on her.
As a human I think:
Come on!!
Overall she doesn't look THAT bad.
She's no spring chicken.
She's earned her spot in Hollywood.
She's a fantastic actress and her comedic timing in Frankie and Johnny is spot on!
She's what? Like 79 years old.
It's not like there are that many choices of a long sleeve, age appropriate gowns for her to choose from.
The market is oversaturated with sexy strapless, sleeveless options for 16 year old starlets.
If Jane wanted a bit of inspiration, she could tear a page from Susan Sarandon, Catherine DeNeuve, and Julianne Moore who the majority of the time look like themselves but just dressed up a bit.
Why is there this need to shine a light on those winning but also those losing.
Why do we have to tear down fellow women?
Can't it just be about doing the best we can based on our circumstances?
In these times, post devastation and re-creation why not build each other up?
I invite you to give out one unexpected compliment to a stranger today.
You might be surprised by the result.
Xoxo
alexandra