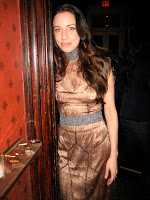 Ok so I've always had gorgeous and talented friends. But today I want to highlight a special dear friend who just blew me out of the water with her Dolce & Gabbana number. I couldn't have styled her better. Here's a pic of Christy Leigh Rilling at recent birthday party held at the chic Hotel Delmano in Williamsburg. Way to bring the bling, flash, and color to all the right bits. Along with tricking out this Dolce number (few designer pieces go from rack to perfect fit without some master tailoring fit work)~Christy Leigh Rilling is fashion's best kept secrets because she is the mistress of achieving a stellar look. She does custom design work for celebs such at Mary Kate and Ashley Olsen, Bruce Springsteen,Scarlet Johansson, Kate Hudson, Liv Tyler, Stella McCartney, any many other fashion heavyweights.
Check out: Christyrilling.com
Do you have a picture of you bringing it to a social occasion that could have just merited jeans? Send us your pics and we will pick the most inspiring one and post it in the next month. EMAIL to oldfashionedgirlny@gmail.com.