The 'Great Greek Grandma Show' thankfully not coming to YouTube EVER!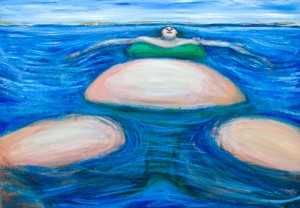 On our way to the boat excursion on Milos we shared a cab with 2 elder barrel shaped Greek ladies with personal bags the size of Texas. I wondered if they brought their whole house. Once they boarded the boat the proceeded to change from their sack dresses into BIKINIS! I mean not disrespect but please cover yourself.  Slow as honey with their eyes glazed over I watch in horror as they took off their underwear trying to be all sly under the dress – 'No don't do it' is screaming in my head'. The worst part was the bikini top with the fake modesty with the shirt in front but really everything is hanging and showing. The nipple is bigger than one of my breast!  So this bikini change show didn't just happen once, twice or three times, but FOUR times. Each lady had four equally unflattering and tattered/broken bikinis and changes with no shaved arm pits, bad hair dye color, exploding forests in the southern region and coral lipstick as 'flare'. Despite all the changes the coral lipstick was a constant for the whole excursion-even in the water.
When I told my cousin her reaction was a calm 'yeah the Greeks and their changing in public.