I've got packing down to a science. How about you?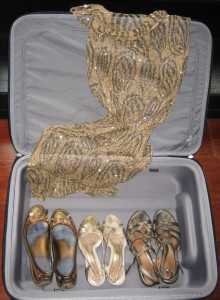 What I've been doing for my last dozen trips is tallying up what I wore – and what I didn't wear – after I get home and begin to unpack. On the next trip, I only bring the things I wore.
I also plan my outfits in advance on paper. If I'm feeling extra Virgo-y I will even pack each outfit in a plastic bag with underwear, socks, and accessories together. This is a great trick when you know you are going to a place where you won't be able to unpack fully, or when you will be squeezed into a tight space, like on a boat. In the summer I often find myself staying in places where I can't unpack fully, or on a floating accommodation. You won't find me complaining about staying on a boat, of course. It's like heaven to me. Still, here are a few tips to make it stress-free:
 Less is more. (try limiting yourself to 3 pairs of shoes)
Stick to one or two color groups.
Don't throw in random pieces that don't go with anything.
Pick dresses which can go day to night, beach to BBQ.
Check the weather in advance.
Map out what you will wear each day you are there. Don't forget your travel day outfits
Include one dressier outfit or dress that takes up little space. You never know when you will be invited to a fabulous party!
Think double-duty. For example, the clothing line jiacollection.com offers reversible clothing so that you can get double the wear. This piece can go over jeans, a dress, or as a bathing suit cover up: http://jiacollection.com/shop/cardigan/dorris/
Short caftan tunics are great double-duty. You can wear it as a top, or as a beach cover-up.
To avoid the sweat issue, use dress shields.
Pick items which can get double- and triple-usage… for example, bring one print or colored scarf to jazz up everything.
Pack a Sholdit to carry your valuables and still look cool (It's a scarf with a built in secret pocket).