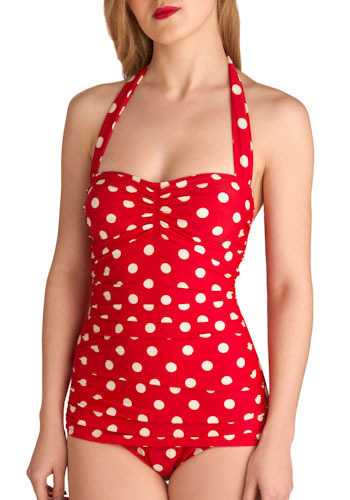 I'm a swimmer but I can't stand the idea of wearing a speedo-just too butch for me. With spring upon us and my recent 'water class experience' with other people's energetic Grandmas in Hobe Sound I realize it's time to start getting ready for sunnier weather. I'm always on the look out for cute suits since chlorine eats them up faster than a speed train.
Most seasons I hit the obvious choices-Macy's Women's Clothing, Lord&Taylor, Trina Turk, and Bloomingdales. But you can imagine my glee when I stumbled upon Mod Cloth's bathing suit section. (Thanks to the What I wore blog I found Mod Cloth) They have a few cute styles totally worth ordering.
Check them out if you love Esther Williams!
A few tips for the sometimes dreaded swimsuit shopping:
~Bring along some cute heels and make sure you're waxed in the right places-it will make you feel much more confident
~Leave behind any friends who won't be honest or optimistic-a camera is always good to take a few snapshots
~Walk the entire floor and pick out as many styles as possible which may work. Forget labels. Focus color and cut
~Make sure the color is flattering and highlights your features-black may not be your best color
~High leg cuts will make your legs look longer and lower leg cuts will shorten the leg
~Ruching in the belly area is flattering if you're trying to hide a pooch
~If you're long-waisted you might try a bikini or a tankini
~If you're trying to minimize your bust go for a plain front high neck with no gathering or details
~If you're small busted the bust detailing on this suit or anything which adds volume is great
Can't stand the idea of doing this alone? Need guidance on what colors and shapes make you sparkle? You can always hire a professional like me!