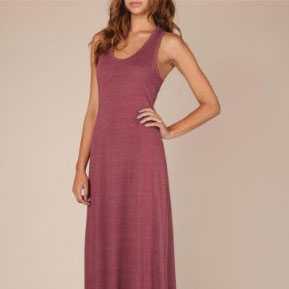 1. Think local. You shop at the farmers' market for your veggies; why not shop local for your fashion? Right under your nose is a local shoe designer Anyi Lu. She's based in Tiburon, California, and her styles are sold in Nordstrom stores as well as San Francisco's Beren Shoes. They're uber comfortable and handstitched in Italy. There's also Calleen Cordero, who started in Marin. Her made-in-the-USA accessories are carried in over 150 boutiques nationwide. You can find her luxury old-world accessories at Margaret O'Leary in Mill Valley, Embodies in Larkspur, or directly on her website. So, why not support local talent?
2. When you buy something new, give something away. With Dress for Success in San Francisco and Image for Success in Marin County, you can donate your items to the Village Concierge and can be rest assured that your garments will have a new life while helping a life.
3. Buy from brands that use organic cotton or recycled materials. Stylish options include Zara, which has introduced an organic denim line and organic t-shirts, and Alternative Apparel's racer maxi dress, which comes in 7 colors and is part of the brand's eco-friendly Alternative Earth collection. It's the perfect dress to slip on post-workout at the Bay Club; with a few key accessories, you'll look stylish and polished.
If you would like my expert guidance for your style I will be in Marin county in December and January 2013. Contact me to schedule your own style re-invention.