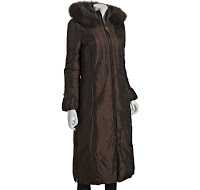 Well it's January and I'm not crazy about arctic weather so I've been dreaming of Tortola.. but I digress.
So this year I decided it was time to finally replace the black walking sleeping bag of a down coat from Eddie Bauer that my mother bought me in (I'm almost embarrassed to say) 1989. As a Californian my Mother was very concerned about me keeping warm when she I left for boarding school on the east coast-she used to joke that the definition of a sweater was something you put on when you Mother is cold.
Well this coat has been the mother of all coats-nothings going to get through and I nicknamed it a homeless person's wet dream. Besides being functional it is about a – 3 on the fashion scales and made me look liked a giant charred marshmallow who needs to lose 50 pounds. (ps I'm like a size 4). So I decided that I at least have to replace it with a puffer that's in my color palette-like brown. So search high and low I did. What I found was a full length puffer from bluefly.com and it's pretty sleek for that sort of thing. The stitching is slimming, the hood is lined in fur but alas it is not as warm as the black marshmallows which I'm dying to actually give away to the homeless. So I'm left wondering what to do since I thought this new coat would be the new holy grail of coats for New York city life. My 70's fur is fabulous (thanks again Mom) but it has no hood and isn't long enough for deep deep freeze. So please weigh in..do I keep the black marshmallow for those super cold days or give it to someone who really needs it?
By the way check out Bill Cunningham's piece on puffer coats: He's always on point.