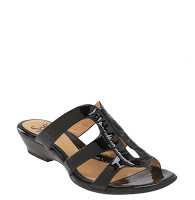 So I've been asked a to comment on comfy shoes. As a New Yorker who sees clients all over town being in comfortable/attractive shoes in absolutely necessary. As a comfy shoe wearer I can attest that it really makes a difference in mood. If I was in heels I would be 100% b%$*# while in comfy shoes I'm only 60%. No in all seriousness let me share with you my shoe wisdom.
1. Just because the shoe is flat does NOT mean you will save your feet. Totally flat shoes will no support can also injure your feet especially on pavement.
2. High heels like Manolos and Louboutins may be good for your sex life but not for your back life.
3. Everyone's foot is unique so try many different brands to find one that you personally find comfy. I personally have a pair of dkny boots, and kitten heel sandals from elie tahari that I just love!
4. Look for arch support and rubber soles for pavement pounding
5. Companies worth checking out:
Merrell-buy a pair that matches your pants so they blend in
Arche have milk in their soles
Cole Han in partnership with nike air
Me Too
Gentle Souls
Geox lets your feet breathe
Kenneth Cole Reaction
Mephisto
Keen
Born
Dansko
Naturalizer
Softwalk
6. I personally like to buy my shoes at Nordstroms because they are so customer service oriented and truly want you to be happy.
7. Try to avoid shoes with ankle straps as they will shorten the look of your leg. Toe clevage styles will elongate your leg the best.
8. In these tight times go with a metallic color that looks best on you. It will go with many more outfits and then you won't need a shoe for every outfit.
9. Featured shoe is on nordstroms site and is by soft.
10. It's good to wear varied heel heights. Keeps you on your toes!
happy searching..