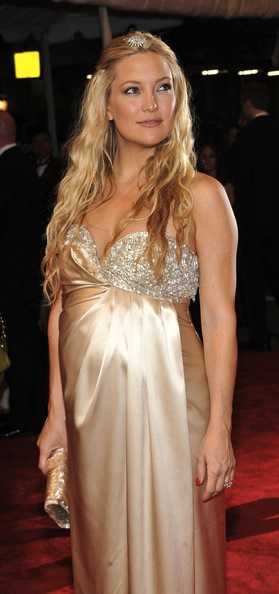 Oftentimes, I have a client who doesn't want to wear a certain type of clothing because he or she wants to hide something – sagging arms, belly pooch, varicose veins, stretch marks, etc. I'm happy to facilitate clients being comfortable and working around their issues, but my response is always the same: "party where you're at." I adapted this phrase from Marie Forleo. To me, it means taking stock of exactly where you are, accepting it, moving on, and letting the world know that you're not going to let anything about it stop you.NOW?
Why should you wait to lose five pounds before working with a fashion stylist? Why not look your best right NOW?
Kate Hudson at the MET Gala is a perfect example. She's clearly very pregnant, isn't hiding it, and is completely reveling in exactly where she is. Not only does the dress flatter her figure and coloring, but she also seems to have a glow that can only be obtained by inner acceptance and radiance.
From working in the industry, I know that celebrities don't just roll out of bed and look magically amazing. They have full teams of makeup artists, hair professionals, and celebrity stylists who bring in 101 dresses as options. I won't even go into the beauty treatments and surgeries…or the on-set tailors at their beck and call. How do you think their dresses look so immaculately beautiful? Do they have cellulite, varicose veins, back fat, body imbalances? You bet! They're human, but they are professionally fitted and altered to perfection.
One of my dear friends Christy Rilling and her team of 10 worked with 19 celebrities for the MET gala. Since most stars don't want to wear something off the rack or that's been worn by another celeb, they make major alterations to the dress to tweak and customize their unique look.
My point is that love, attention, and support are laser-focused into the image part of celebrity life and don't just happen.
So, if you would like to bring some more attention to the image and look in your life, I'm here for ya! You can comment down below or contact me