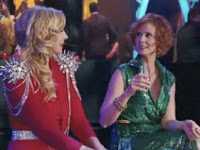 This post is dedicated to my writing mentor and favorite 'uncle' Mark Gautier-Stay tuned for info on his play 'My Sister Michael'
I was able to play hooky on the premiere day during lunch time and see the sold out Sex and the City 2. I was aware of all the negative press so I went in with very low expectations. I figured I'm just going to watch the movie to watch the costumes. I do this frequently with old movies with slow going plots. Cineplex on 34th street was packed with Starbucks sipping, Louis Vuitton (the gateway drug of designer bags) toting, metro riding fans-ie wanna be fashionistas -ie big FANS. I got to chatting with the woman next to me who said she too knew about the bad reviews but had to see the show.
Wos there are so many bad reviews on the internet there are compilations of the WORST REVIEWS
The film totally delivers as a feast for the eyes in fact there were so many moments in the first 15 minutes of the film that I wanted to freeze frame and take in each little bobble and costume details by Patricia Field. Can't say I liked anything about SJP's best man get up-even the crown and hair atrocious. The movie certainly obviously attempting to bring big production glamour of vintage films such as Top Hat, and Gigi. The swans in the gay wedding must have been a reference to a 40's film. Talk about over the top. I felt the costumes were really garish and my favorite quote called the movie a "home video of gay men playing with giant Barbie dolls." — Lindy West, The Stranger. The worst outfit in the whole movie for me was Samantha's red suit with spikey shoulder pads. How is that going to attract a man? Oddly I felt Miranda who is usually boring was the best dressed of the bunch-sleek and chic.
I certainly have a problem with the way SJP is continually put in bras and underwear that show through her clothing and nightgowns (who in real life wears bras to bed hello uncomfortable) because it sends a bad message to the public and private clients always ask me about if they can pull it off and I usually retort, "sorry but No but you're not Madonna" And hello who wears heels on a camel????
The fans and I were in heaven and Liza Minelli singing 'All the single ladies' certainly made it worth it. I was trying to figure out if those were her actual legs under semi transparent leggings or a body double. Wow-she's been lifted and tucked but she's a showstopper. The jokes on sex and menopause were crass, campy, basic, and expected but I have to admit I laughed. You get what you paid for.
Later on that evening I caught the 7:30pm show at Magnet theater with an improv group named Taco Supreme. As they take suggestions from the audience and are a group of 4 women (rare combo at this theater) I jumped on the opportunity to yell out 'Sex and the City' when asked for something on my mind this week. Boy did they take this one to town. I was howling. None of them could pass for any of the characters-no Charlottes here but no matter. There was a scene with a grandma demanding to be taken to a live burlesque show and then the actual stripping scene where grandma gets her own twisted lap dance, watching strangers have sex in the window across from your dorm room-trying to hide that scene when the parents stopped by, and a riff on reading romance novel like 'dusty plains' (fictitious but hilarious title by Danielle Steele for the juicy bits.)
I will be returning often to the Magnet Theatre for sidesplitting laughs but NOT buying SATC 2 for my video style collection.