Don't get me wrong, a few years ago I loved me some H&M, Zara and Beacon's Closet.
I was living in Williamsburg Brooklyn, the budding hipster capital and experimenting a lot with my look at  that time.
I was also working on set as a fashion stylist so proving that I was creative in my dress was paramount. Yes that's a photo of me in my full hipster glory. You can laugh it's ok.
But in that drive to be different I would often buy things I thought I would give a whirl or just try out.
I wasn't sure. I wasn't focused.
I hadn't really defined my style at that time.
I was experimenting with boho and trying it on for size. It ended up not being for me and when I moved out of the neighborhood and into a space on 5th Avenue in Manhattan, I pivoted my wardrobe.
I also found that the move forced me to get rid of a lot of stuff.
And most everything I bought from H&M, Zara, and Beacon's closet eventually got edited out.
Much of the H&M stuff I never wore because it didn't feel good enough for my style. It felt less than.
That's the thing with cheap clothing, there is a price to pay.
Years later when the book "Over Dressed the shockingly high price of cheap fashion" came out, it all made sense to me why their stuff makes my skin itch.
You can see my full review of this book here>> http://bit.ly/1f3uyve
Through my styling work, I've come up close to the most exquisite workmanship in couture possible…
I'm talking about Chado Ralph Rucci, whose work to me is orgasmic.
When you see the hand stitching up close, mass manufactured goods are a joke.
Not that I can afford to buy haute couture at this time in my life nor would I want to wear anything so precious for every day.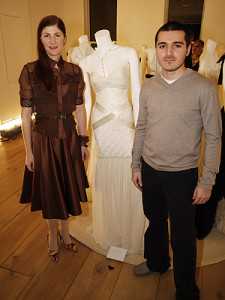 I was gifted a couture level outfit once by the designer Sergio Guadarrama of Celestino Couture as a thank you for all thebusiness I brought him. I wore it for an event and I felt like a million dollars. (Yes that's me and Sergio in my couture outfit to the right.)
And every time I do another sweep in my or my client's closets to clean out what I'm not wearing, I learn+ teach the same thing over and over.
The good stuff by Elie Tahari, Trina Turk, Rebecca Taylor, and Nanette Lepore who manufacture here in NYC with standards stays and is worn, loved, and sends the right message.
Basic ruched t-shirts from Old Navy and Gap in good colors are good staples but they aren't the backbone of a wardrobe.
I'm not saying there isn't a place for more affordable fashion.
It certainly comes in handy for those who aren't flush but most of the H&M's shoppers aren't destitute and I guarantee they are buying more than they actual need because it's cheap.
I'm simply asking you to be more conscious in your spending and curating your closet will help you do that.
So curating my closet over the years has taught me valuable lessons and has made me a more conscious shopper.
How about you? What has your closet taught you?
Is your wardrobe currently stressing you out?
Join over 500 other women in my on demand styling program CLOSET CLARITY which will show
you how to cleanse your closet with ease and reclaim your style.