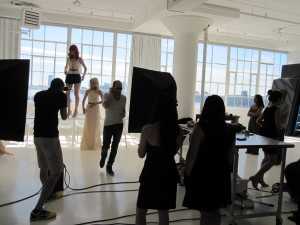 When I got to NYC in 2001 all I was interested in was the fashion industry.  I was young so of course the weirder and more unwearable the better. But something changed in my middle years. I'm not sure when, but I think I just realized something wasn't right after attending so many fashion weeks where I felt like I was invisible and didn't belong, styling a billboard for a real estate conglomerate bringing in millions of dollars and never meeting the client which made me feel unnoticed and slaving to get amazing clothing for a photo shoot only to be offered a microwave burrito for lunch.
After several years, the feeling didn't change and the industry message really bothered me.  I realized high fashion models are not reality and the image they projected was not right. Be skinny, get skinnier, wear a size 0, buy expensive clothing, wear the latest trendy style every season, pretend, pretend, pretend.
Style should be about expressing yourself in your size… not putting on another's vision in their perceived size.
I decided to start thinking about who I wanted to serve. I am now an advocate for the successful working woman who doesn't have time to keep up with the fashion magazine trends, who wants their style to be easy and doesn't want to spend all their free time shopping. And why should they?
What areas did I want to focus on? Making style easy focusing on outfits that go from day to night and casual to dressy, wearing styles that are for all shapes and sizes and can be obtained at almost any reasonable budget (however you get what you pay for.) Style doesn't mean wearing expensive designer clothing and accessories from head–to-toe. Proper fit, quality and what looks good on "you" is what counts!  We are all unique and do not fit in a box of stereotypes.
Follow your own style path… I did!