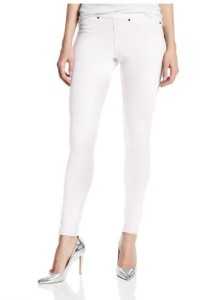 I don't know about you but every time I go to purchase jeans I get super frustrated., and I with private clients it's always a whole big deal.
Lately I found an amazing solution… HUE
As a kid I just knew Hue for their socks because my Mother's friend Eve knew the founder. Now they offer so many more products. Often hidden in the hosiery department it's easy to overlook this fantastic product.
The real issue with jeans is that for them to fit really well they have to be cut to your body, and really all of our bodies are different. We're not all cut like the fit model.
Because most jeans have a small percent of stretch and I realize that's why most jeans give me the saggy butt syndrome or fit around the hips and not the waist. But this winter after living in my jean jeggings from Hue I ordered two pair of white ones. One pair is more of jean (hue original jeanz denim legging) with 4% stretch spandex and the other pair which is billed more as a twill legging has 7% stretch spandex. I tried them both on and was pleasantly surprised. The photograph of them looks the same but they are different prices. The jean pair looked better on me but the twill actually felt better when I wore them, so I chose the one that felt better.
Hue makes a wonderful products at such a good price. You can buy 3 pairs of hues for the same price as a $200 expensive jean. Both styles come in a variety of colors.
You can thank me later!
If you love my style resources I'm putting all my tips, tricks, and vetted vendors in a book called VETTED. If you would like more info you can join here >> http://bit.ly/1tkIabb
HUE Women's Solid Color Original Jeanz Denim Legging
75% Cotton/21% Polyester/4% Spandex
$40 on amazon
http://amzn.to/1nzhKPK
Hue Women's Twill Leggings

62% Cotton, 31% Polyester, 7% Spandex
have a soft brushed cotton feeling
$27.50 on amazon
http://amzn.to/1nRxXPG