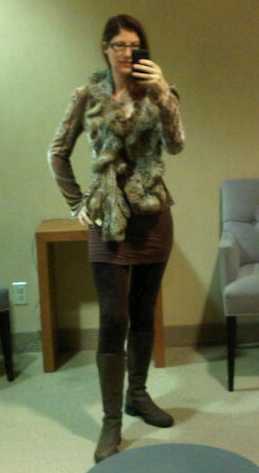 One of my lovely blog readers, Natalie, expressed this current style frustration:
"Dressing for WINTER without losing my style – especially around the end of February when I want to either hole up in my apartment or wear seasonally inappropriate SPRING things – it's a tough time of year."
I think we can all relate to this one.
I know for me when I can't wear light dresses (they are my uniform), it becomes more challenging to still dress in a way that feels feminine yet is weather appropriate.
My current winter style cheats are:
~Corduroy leggings with a tight knit dress + decadent vest + great jewelry + tall brown Timberland boots
~
HUE foil print leggings (SOLD OUT)
in copper + sparkle infused jacket + great jewelry + tall brown boots
~Winter dress + fun tights + indestructible heels + great jewelry + red knee-length coatI'm also keeping my umbrella handy every day. Oh, and and throwing on my fur scarf when I feel the need to be cozy.
Having a great light- to mid-weight coat that has some zazzle is one of the best pick-me-ups. I like to think in New York your coat is like your car ~ it's your calling card, your first impression. And why not have a fabulous one?
How can you work items in your closet that make you happy into what you're wearing right now? Sometimes it can be as simple as throwing on a fun piece of jewelry or a special scarf.
I'd love to hear from you about what helps you during this in-between time. Please comment down below.