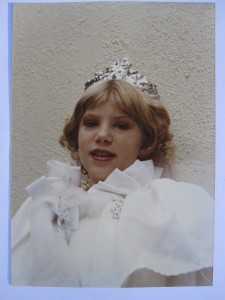 A few weeks ago, Leandra of @manrepeller asked on Twitter, "Who are you going to be on Halloween?" and I realized that I have very little Halloween spirit in me left. I think part of it has to do with the fact that I'm really in a good place with who I am and where my style is today. Halloween used to be my favorite holiday, but this year I don't feel the need to re-invent myself!
Of course I am still very much fascinated by change, evolution, and the ability to morph ourselves into a different kind of being. Halloween is an over-the-top version of a makeover, only with a characterized theme. It's the holiday when the fantasies that you hold for yourself can come true – like a trip to Disneyworld for your style. As a child I pretty much only wanted to have pretty costumes and be characters of beauty-princess, queen, fairy, punk witch were some of my favorites. Yes that's me above as a Queen for halloween in grade school. Thanks to my Mom who sewed the cape to perfection! What always shocks me is the sheer number of women in New York City who jump on what I call the "slutty b____" bandwagon. They take their costume idea and put a sexy slant to it – and voila, they are basically in lingerie on the street! I personally appreciate the witty or more subtle costume, but hey, that's me.
Halloween is a yearly reminder to keep asking yourself "Who do you want to be today?" You might be surprised by the answer. So, what do you love or hate about the holiday? Do you have any major plans to transform yourself for a night?