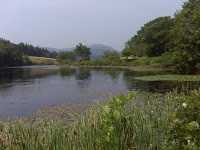 How do I describe NEH and Seal Harbor on Mount Desert Island Maine? You really don't know what you're missing untill you witness the place. Sleepy, adorable, quaint, and the opposite of new york city. No starbucks, no chains and thank god. Downside is there are few restaurants and this season Bassa was having serious staffing issues (due to drugs??? who knows).
Upside is a seriously waspy scene for a brief 8 week season. Socialites from Boston, Philadelphia, and new york arrive every july with their summer whites ready to get soiled by martinis and salt water. Some of the older folks are like osprey who fly south for the winter and chase the good weather. Most children/ toe heads are required to be blond, adorable, and on the quiet side.
Tea parties, garden parties, hikes around little long pond, gallery showings, cocktail parties, carriage rides, swims at the private clubs, tennis, golf, lobster bakes on private islands, boating to island restaurants, porch buster cocktail parties (also known as island sweeps because you've invited the whole island and your porch is bursting with people)
Hung around to see a tennis round robin. One woman was playing at least 7 months pregnant who identified as having 'waspy gumption'.
Who else has waspy gumption? Those who show up to parties uninvited, those who crash in an extra bedroom without your permission or knowledge, and hostesses who dare to serve tea sandwiches prepared by the housekeeper instead of a caterer at a tea with Martha Stewart as a speaker.
What is this world coming to?