Does this sound too good to be true?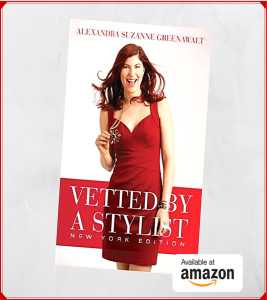 It's not.
I have literally put every fabulous style resource I've ever been asked about in my second book.
In the past 15 years whenever I would find a good style product, service, or shop I would add it to my book.
Now it's simple for you to access…a directory with some fun stories sprinkled in.
So yesterday when my friend complimented my micro mesh stockings and said she had to get them, I could say….
"That's in my book!"
And when my client shared with me she's never worn her reading glasses because they don't feel flattering and she found the best optics shop where she bought her new 5 fabulous pairs, that looked amazing on her face, in the book!
And the other day at the grocery someone asked me where I got my scarf that has a hidden zippered pocket for cash, cards passport, and cell phone… also in the book!
Here's some of the rave reviews I've got so far:
"This book is an incredible insiders guidebook for even a NY'er, Alexandra is so generous opening her designer black book for the world to share." – Peg Samuel, Social Diva
"So you think you know New York like I did? NOT, "Vetted By A Stylist" leaves no stone unturned when it comes to the Big Apple. This is a must have book for aspiring fashionistas as well as veteran fashionistas!! And I'm so excited that I have my very own signed copy!" – Kelly Derrickson Singer
Just As Essential As Your LBD
If you are lucky enough to have your good friend who happens to be a stylist in NYC be your shopping guide you have it all! This book will take you in and around the city as your personal stylist with finds that only an insider would reveal to you." – Francesca Alexander of Social Global Grind
And now the book is available on Amazon so you can have it in a flash.
I still sell autographed copies here on my site with bonuses and special VIP packages but some peeps love amazon.
I know, I do too.
Do me a favor and if you do get your copy on Amazon would you leave me a review so that other's can buy with confidence?
Thank you!  That would be amazing.