The Uggs 'robe'…I morph it into a car coat/dog walking coat/airplane cozy coat/lounge around the house robe. I love it and it's amazing!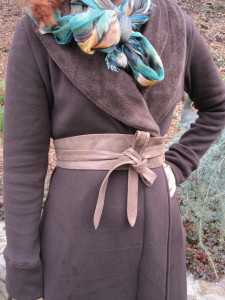 Years ago, my good friend and PR maven, Diane Mantouvalos @andoniapr would always inspire me with her whisper thin/sexy tops. I found out that she was a huge fan of shopping in the lingerie department for 'normal' clothing. I've never personally worn slips out as dresses but I certainly appreciate the creativity. Imagine my surprise when this week, I went on the hunt for the perfect robe. I wanted something plush, cozy, and downright decadently…perfect for winter in Marin.
Despite being from here, I'm very thin skinned. Basically, I'm always cold in 'underheated' California so I realized a fab robe would do the trick. I hit restoration hardware, pottery barn, Saks.com, and  amazon.com.
I went into my local Nordstrom's to try a few on which I had seen online. The plus necessities one made me look ridiculous. It was cut too big. The Josie Natorie made me look like a pimp, and then I found the Uggs robe. Online it didn't look appealing but in person, it was great and it fit just right. And in chocolate brown I knew wouldn't get dirty so easily.
While the Uggs robe didn't feel as water absorbent as I normally like, it only took one even evening of cuddling up in that I was reminded of a treasured long sweatshirt zippy from Victoria's Secret which has become one of my favorite pieces to rock on an airplane.
And that's when I realized this robe could double as a coat…just swap out the belt and voila, double duty! I also think I can wear this on the airplane and feel o' so cozy. Plus, the dark chocolate shade is so slimming. It also comes in a festive red, a calming cream, a deep purple, and a lovely shade of navy which would be great with jeans.