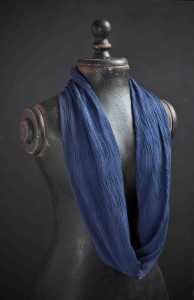 While traveling there's always that dilema of hiding your money, passport or other small valuables safely. Some options such as the fanny pack, a thin belt that hides under your jeans or a neck pouch that hangs in front of your cute outfit are just not stylish.
The solution? It's called a Sholdit.  A stylish scarf with a hidden pocket that holds your valuables safely.
I decided to order one to take with me on my  trip to Europe this summer.  I was excited to get my sholdit in the mail because it would be the perfect purse alternative and I wanted to try it out before going on my trip.
Yesterday was my first day taking my new Sholdit for a test drive down Fifth avenue in Manhattan. I have to say that I am a bit disapointed that it is in polyvester. I'm not sure that's going to fly in the greek islands with the heat but maybe it will work for fall, winter, and spring in NYC. I was expected to get some looks when I went to pay for things but no one seemed to notice, which I thought was good for keeping my money safe. I loved being handsfree because it was one of those rainy days. But I kept having this strange feeling that I was missing something. After awhile I realized it was liberating to not carry anything on my shoulders or with my hands. The pouch is big enough for my money and q10
blackberry but I've noticed it get's a bit heavy with the cell phone so I moved it to my jacket pocket.
This is me wearing my custom scarf from etsy vendor called speak easy supply company.
The color I ordered is called peacock but it's closer to a navy. I was hoping it would be more teal. It's got carrying options… as a shoulder shrug, long, cross body, as a clutch pouch, or doubled around the neck. I've only worn it around the neck. I kinda like it but I think I will look for a cotton version to take to the islands.
I'm hoping they offer cotton going forward as the poly tends to trap sweat after wearing it a few times in hot weather.
It took a week for one person to even notice my secret zippered compartment which is great because it feels extra safe that way.