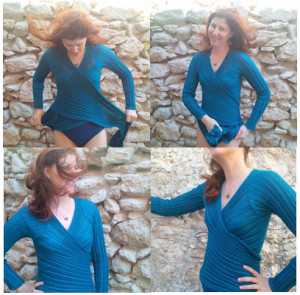 After staying in the Greek Islands for a while and honestly not seeing much special in the style department, I was beginning to think I would have to forgo the slated Greek artisan post.
Then I came across an intriguing store in Chania on Crete called XAMAM and found a multi-functional wrap from my current favorite greek designer Ioanna Kourbela.
I wrote about Ioanna four years ago (Cool Clothing in Sifnos) on my previous trip to Greece.
This wrap is called the 2550 and the designer has at least 10 different ways to wear it in an easy to watch video.

I personally prefer the style at approximately minute 4:10 in the video. This piece is so brilliant and I just had to have it so I bought it in teal and in dark purple/espresso.
Ioanna Kourbela's reach is very impressive. She has flagship stores in Athens, global distributors and many stores which carry her line. I now realize I've seen her designs in multiple shops on several of the cycladic islands so it's exciting to see her business thriving.
The Greek Islands definitely do not lack shopping but unfortunately so much of it is manufactured crap and not local or artisanal.
In New York you can find her beautiful designs at DRAPE on Atlantic Avenue in Brooklyn 718-624-2969.
P.S. Love my style resources? Ioanna Kourbela is just one of the secrets I share in my next book Vetted. Get on the VIP list now for your advance copy here>> http://t.co/GfewPQL7hJ.