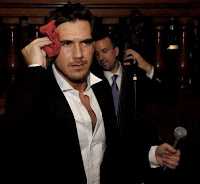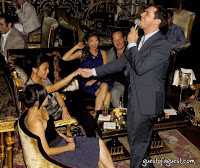 When I was a little girl one of the highlights was dressing up and dancing the night away on my father's feet at the Father Daughter dance at the St Francis Yacht Club. I imagined that moving to New York my nights would be filled with eligible suitors courting me the way my father had treated me. Last night was what dreams are made of. This old fashioned girl who is currently making old fashioned beef stew hit the newly renovated Plaza last night in style. My good friend and event planner extraordinaire of Bon Vivant Nikki brought me along to the tail end of a glamorous event put on by Susan Shin. After that fete wound down and the champers ran out we headed over to hear the wonderful crooner Michael Fredo. Nikki's a good friend of
Michael Fredo since he used to be a fixture at the sadly closed Le Royale (owner Terry Casey's new project is in Williamsburg which I attended the soft opening in may).
Anywho nothing could prepare me for the evening. Good news was I was dressed to the 9's in my best custom bronze/gold sheath dress (designed by moi of coarse)
Michael Fredo and his band are single handily bringing old world class and style to the Plaza while breathing some fresh air and youth into the joint. Michael's act is American Jazz standards influenced by Frank Sinatra, Duke Ellington and other greats has some serious chops. What is so entertaining is that he breaths a freshness, an ease, and almost kid-like fun to the show. He's breezy, light on his feet, smooth, and does a killer spot spin to wow the ladies. He's dressed in a burgundy velvet suit with a mock handkerchief that's really red panties which he uses as a fun prop to mop the sweat off his brow and engage the audience. Ladies this man is straight, single, and probably knows how to woo!
When he sings, 'I get a kick out of you' I realized that he shares this wonderful old fashioned attitude of men truly being excited to be the presence of a LADY. This is an attitude which I believe is lacking in the female over populated New York city. During the evening I noticed that as usual the men were outnumbered and stuck to their corners like wallpaper where they held court as the barrage women came to them. What's wrong with this picture? How did we get here?
Even the Countess Luann Lesseps who had been at the Rosenthal event with us was toe tapping and at one point looked like she might sing. Other crowd notables was a 'Mikey' who claimed to represent Micheal Fredo, Lady Gaga, and Wyclef Jean but couldn't produce a card but his room key and wad's of 50's. 'I like the way you roll in your dark sunglasses and diamond studs-you just aint my flavor sorry'.
The gamut of the hipsters came to represent-my favorite wedged between gossip girl lookalikes in headbands was the coolest Japanese hipster with a Mohawk and an older artist who had clearly never seen a razor.
I can sum up the night by saying it was what you want classic New York to be and never is. Today I can eat my words and my beef stew.