I previously shared my tips for keeping warm this winter in this post, but I wanted to focus in on the importance of the most amazing scarf/neckwarmer.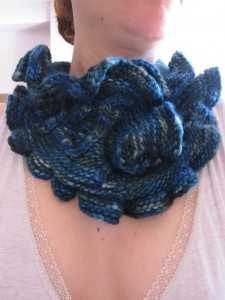 I have found that what you wear around your neck is key. If you're prone to getting chilly a gauzy cotton linen scarf isn't going to cut it. Instead, go for cashmere, wool (although not so cuddly), fleece, and faux or real fur.
One of my favorite hand knit pieces is by Dahlia Soleil, whom I discovered at Artists and Fleas. She also sells on Etsy here. Her current shop sells mostly hats but I think she does custom too.
I've also mentioned my secret source custom knitter, who will knit something to your specifications.
My Mom knits the most amazing pieces, but you have to be related to her to get one. Her latest creation is a cocoa brown short scarf tailored to my fur coat.
Another favorite is a rabbit fur scarf by Joolay, which Lord & Taylor stocks every year in a few colors. It's a steal at around $75-$90, depending on whether or not you hit a sale. Saks and other stores charge WAY more for a real fur scarf. The issue of fur vs faux is challenging because faux is toxic so not green in terms of chemicals. But real fur isn't really PC.
If you're a green girl try this eco-friendly down scarf by Nau, quilted from 100% recycled polyester.
If you love fleece you will love this 'snood' as I lovingly call mine. I no longer see it in my favorite color brown but there are a few colors to choose from.
Stay stylish and bundle up!