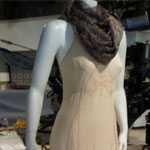 1. Swapping out your heels for cheap flip flops – Do you think no one will see you on the street? Of course they will. You never know who you will run into, so get yourself a good pair of comfy flat sandals in a neutral color like copper, bronze, gold, or nude. They will get tons of use, and your feet will thank you too! Try brands like Sofft, Beautifeel, or Born. For more info on comfy shoes, read my previous post.
2. Pairing a black top with that colorful summery print skirt that has no black in it – BLACK DOES NOT GO WITH EVERYTHING. Repeat after me: Black does not go with everything! If your skirt is multi-colored, pick a color from the skirt that looks flattering under your face and wear that instead.
3. Knee-high panty hose with flip flops – Yes, I've seen it. Don't do it. Try peds or open toe hose instead, which look so much more pulled together. For more info, see my post about avoiding blister city.
4. Throwing your hair into a messy clip – If it's hot out, why not pull your hair into a slick bun still wet out of the shower? It keeps you cooler, looks more pulled together, and takes just a few extra seconds. As Hillary Clinton said, "HAIR MATTERS!"
5. Showing too much skin – Ladies, I'm seeing some twins hanging out too much. If you must wear skimpy straps, throw a light gauzy scarf around your décolletage, and you're ready to go. For more about summer scarves, check out my Weather Channel style segment.