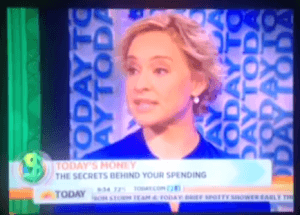 If you know you are going to be on TV, WebTV or video do your homework first. I've been on all three so know what works. It's not as simple as it seems and you want to prepare so it's important to follow my top principals when prepping for your big day.
RESEARCH as much as possible regarding the backdrop and colors. Are you shown in full body or just from the waist or shoulders up. Dress accordingly.
PREP your outfit in advance and have someone take your picture as well as have them take a short video of you..even a camera phone will do to give you a gist of how you will look to the outside world. Oh, and bring a backup outfit with you… just in case!
REPRESENT and be true to your style (with the volume turned up). The suit that looks great in person may not translate on stage. Bigger, brighter, and bolder usually works better than small, subtle details. Small earrings will disappear so avoid them. There is a reason costumes are different than everyday clothing.
FACTOR in the colors that make your skin and face glow. Select a winning color as your go-to hue for the camera. Colors which are great on camera are blues, teals, and coral; colors which look good with your natural coloring. Overall I would stay away from avocado or mustardy green.
OUTFIT YES, SEPARATES NO! Wear one color head-to-toe for a more cohesive look (unless the show is super casual). Think of how political wives dress. Notice how they always wear one color? They have done their research about what is effective! I find that dresses are the easiest way to a polished look. Now if your look is more rock and roll by all means go leather/jeans/rocker chic.
SHAPE is a must. Select a clothing silhouette that is flattering to your best features. Avoid boxy or loose styles that add volume and make you appear larger. Baggy and tent-like dresses and kimono sleeve tops are never flattering on camera. Go for body-skimming (not skin-tight!) and you will look thinner.
AVOID BLACK & WHITE as lighting/video/photography isn't friendly to those colors. Plus, they send a basic plain-jane message.
FOUNDATION is important! Make sure your foundation garments hold you up instead of dragging your twins down. Check that there's no bra fat bunching in the back. Avoid bra fat lines at all costs.
For example, Kate Northrup hit it out of the park with her appearance on the today show.
I asked her about it and she said that she never wore that bright of blue but that her Mom Christiane Northrup had shared that blue is great color for TV.
Boy, was she is right!
Blue is a magic color on TV and video.
And the bonus was that Kate looked fantastic against the blue and white today show backdrop.
Double win Kate!
The bright color made her hair pop and she was brilliant.
Are you becoming more visible online and in the media? Want help looking your best while staying on brand? I have a Style for the Spotlight package just you. Check it out.