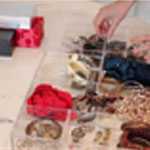 PRESENTING my Truth Bomb video series (trust me, it's harmless) which
is meant to be fun and informative.
Want to get out of the door quickly and stylishly?
Do you own beautiful jewelry and accessories but realize that you never actually wear it?
Do you forget what you have in your closet? Are your special pieces being neglected?
Is Less REALLY more?
Or is More really MORE?
And Why?
Then this video is for you!
I explore this crucial style principal and show you some organizational tips to help you maximize your jewelry collection.
The catalyst for the video series was actually my new program SIX-FIGURE STYLE.
In this short video segment I will cover one of the main principles of maintaining a healthy closet + accessory department.
P.S. Applications are due tonight Saturday at 12 MIDNIGHT for my program Six Figure Style.
So don't delay and I hope to see you on the INSIDE!