I'm so excited to share with you my top picks from Alexandra Owen's line. It's rare that a new talent emerges on the New York scene that blows me out of the water (and even before the official Amex Mercedes Benz Fashion starts). The fabulous Syl Tang of Hip Guide who has seen it all fashion wise (the good, the so so, and the BAAAD) invited us to the private showing in Hotel 41.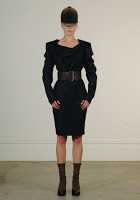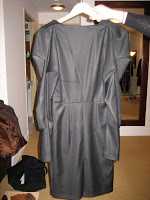 I'm not one to fall in love with a black dress but…If you were going to buy one this would be it. So versatile, sophisticated, and perfect for a wide range of ages.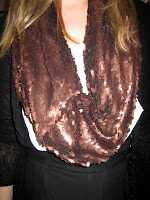 What's stopping you from being drop dead gorgeous in this rusty bronze sequin necklace/shawl? Now that glittery things are being shown am and pm it's a must.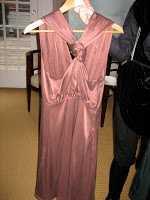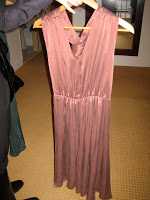 Showing you both the front and the back of this reversible dress so that means once you want a new dress flip it and voila a new look. Washable silk that goes in the washing machine? Perfect for these times. Brilliant and perfect for day to night. I would live in it and love every silky sec.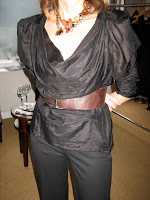 I'm loving her draping details. Also very flattering to the bust.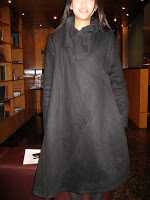 An a-line architectural coat 'the elizabeth' with asymmetrical seam details juxtaposed with the soft curls of the neck is unique mix. (shown with another jacket underneath)
So if you want to be able to buy this line in the US, send a tweet to @bergdorfs. Tell them we sent you!