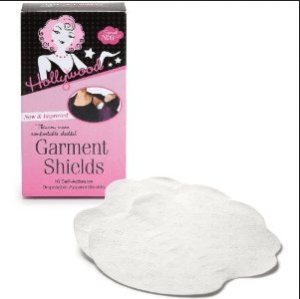 My favorite stylist secret resource  is Dress shield by Hollywood Fashion Secrets.
I've tried a few industry brands but this one is my favorite.
And they have saved the day for me and my clients so many times over.
Imagine you're traveling or speaking and you are sweating like crazy but you can't for some reason take off your jacket.
Maybe you're speaking in front of hundreds, or in front of important clients, or you
just sweat a lot (it's hereditary).
Get yourself some of these puppies and you're all set. I also use them in expensive blouses and dresses with sleeves to get more wear of of them.
And I put them in my jackets and coats too!
Where to buy: Ricky's or MWS in nyc
or online on amazon.com >>http://amzn.to/SfOII9
Or directly from Hollywood Fashion Secrets>>http://bit.ly/1pyMgHU