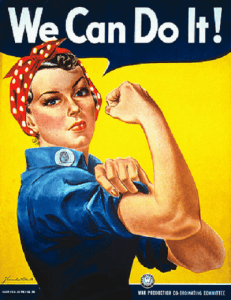 New York City is the original breeding ground for the power woman.  Women have become the movers and shakers, more than ever before, starting companies while juggling their business and personal lives.  Unfortunately, that power can sometimes get over-amped, and I see it in their style choices.  Women start making headway and want to show their power by dressing differently, and they can lose sight of their style staples: they wear black more often, seek out edgier designers, and get a severe haircut.  I'm here to tell you now…DO NOT TRUST THE FASHION EDITORIALS IN MAJOR MAGAZINES!  These editorials will lead you astray in a bad, bad way.  This intense look might not suit the real you, and if you are single, it just may be scaring the men away.
I spoke with Elizabeth Webb, whose coaching business revolves around helping her successful female clients get in touch with their femininity and attract the right mate and/or lifestyle.  She acknowledged that a style intervention is often needed to help a power woman bring the focus back to the woman and away from the power.
Here are six tips to bring more of the "lady" back to your look:
Wear more skirts and dresses, less pants.
Opt for a more natural makeup look; no stark eyeliner or bold lips.
Dial down the black.
Mix in more feminine colors (rosy pink, red, peach).
Go for simpler cuts and shapes (think classic feminine silhouettes).
Don't make any drastic changes with your hair.  Keep it simple, classic, and sophisticated.  Consider some lowlights to change it up!
Have you ever thought about what you are wearing when men ask you out or compliment you more?  Is it brighter colors, softer styles, or simpler silhouettes?  Start taking notice and you might be surprised.