What do Lady Gaga, Madonna, and Michael Jackson all have in common besides singing?
Their fashion statements and personal style re-inventions were – and are – almost as important as their music.
The message of musical artists can be so intertwined and wrapped up in their physical image. I personally believe that Lady Gaga's fast ascent into stardom has been fueled by her massive, exciting, and sometimes shocking style and stage persona. Her crazy style involves more than just clothing – she carefully chooses her statement accessories, hair, makeup, and even gender role playing. She took notes from Madonna, clearly!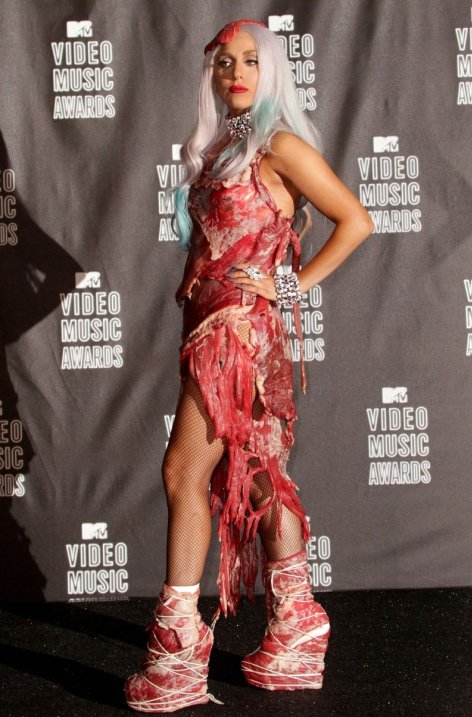 You, too, need to think of your body and clothing as an extension of your brand.
Kudos to my public speaking improv teacher, who has started dressing up for our classes because of motivation from little ol' me. She wants to be comfortable but understands that we never get a second chance to make a first impression.
I dress my clients based what I think will inspire and attract the right opportunities for them in life.
If you are underdressed, here a few messages you may un-intentionally send:
– I don't give a sh*$ about this meeting
– I'm really lazy
– I couldn't care less about what I wear
My clients tell me that when they walk into a meeting in one of the outfits we put together, they instantly feel more powerful. It's as if the energy in the room is drawn to them! Dressing powerfully can validate your high rates (I should know – could I preach style from my dirty sweats??? I think not).
I also teach my clients to harness the power of color with my style prescription. Did you know that in China, the color black is associated with death? Do you know your clients and what assumptions they may make about you based on what you are wearing? It helps to do your homework!
I'm working on a global style program for women who want to be iconic in how they dress. If you could answer my survey it would be so helpful as I create it around your needs and desires!