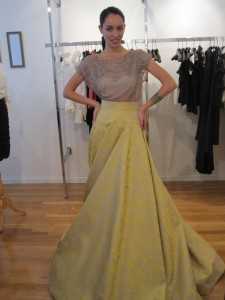 So we're in this new fashion vortex where the long skirt has made it's way back onto trend setters but it has also got me thinking. Lately I've been all about touting the designers who I believe have longevity. I've been asked several times to name 'hot' 'young' 'up and coming' designers and you know what, that makes my skin crawl. I'm kinda over the flash in the pan I'm so cool I have an entourage and a harem. Gone is IOC, As Four, 3 as four, Heatherette, and more. As much as I love Rodarte I wonder and hope they stick around because they are so artistic. I am just all for the designers who are long term and into producing beautifully crafted clothes with handmade finishes. In addition to their RTW they all do custom as well. Here's my current short list:
Chado Ralph Rucci
Joanna Mastroianni
Celestino Couture
Why be a fash in the pan?
If you design custom and one of a kind garments with exquisite details and finishes and I don't know you, please introduce yourself!