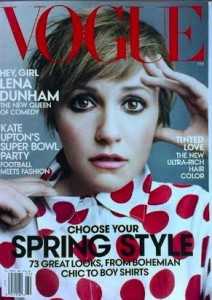 "Negative tits"….that was the nickname given to me by my nemesis in high school. Next to her voluptuous, curvy body, it was difficult not to feel like the "awkward girl."
The year was 1990, and the curvy super models were all the rage. My body type was not celebrated until Kate Moss came along in the Calvin Klein campaign…even when that happened, I had no idea how to dress my flat body. It took learning the ropes of shape analysis for me to start to understand and feel comfortable in my unique body. As an adult, I now love my body for exactly how it is. And when my boyfriend compliments my ass, breasts, or small waist, I thank him and mean every word. I take in those compliments fully and with gratitude for my body.
There has been a bit of controversy around Lena Dunham's slightly retouched Vogue Cover. I heard whispers about her potential cover in advance and thought, that it would be awesome if they started showcasing different kinds of role models, just like her. There's something crazy raw/real/awkward about Lena Dunham and I spotted it while watching the humble web series Downtown Delusional Divas which was before  her debut movie Tiny Furniture. She has the authenticity and courage to show all parts of herself, even the not-so-pretty sides and that's refreshing. Not only does she ignore perfection she seems to be perfectly comfortable with herself.
Unrealistic perfection is what the glossies' usually show us. One of the reason's I stopped subscribing to fashion magazines, is that I would get hangovers from them. I would catch myself reading W magazine and comparing my life to the one's in the social pages, and ultimately feel worse about myself. I found that fashion magazines and the fashion industry in general made me feel worse about myself, not better. I also knew from being on set as a fashion stylist that nothing in the edgy 'editorial' photo-shoot was 'real'-the models were usually put into uncomfortable situations and encouraged to pout and never smile. It irked me that to be 'editorial' you didn't smile in the photograph but in a 'commercial' shoot the models had to smile and be happy the whole time. Why couldn't the models be comfortable and natural and let the camera capture something authentic?
I never felt like I fit into New York City's fashion industry and that I was always going to be looking into the bubble; never quite being in the center or the "darling." So when I see Vogue making Lena a leader it makes me think that fashion could be showing small signs that 'reality' could finally be gaining momentum. Especially now that she's going to host SNL.
I know that I've never tried to fit myself into a box and I don't ever plan on starting to. Luckily, I chose to pursue style professionally+personally.
Style is based on dressing well for your body and personal style. I may not be as strange looking as odd-adorable-duckling Lena is but to me, she will always hold a place in my heart. It is so wonderful to see her speaking for her generation and the challenges they face.
Do you relate to style or fashion? Do you feel comfortable in your look?
I would love to hear how about who you relate to in the comments down below.