I was recently asked to comment on something crazy that's going on in Montana. It's about passing a dress code law that states "leggings are not dress pants" (read the full dress code law here).
Now here is the thing, technically a legging is a cross breed of the tight with the feet cut off. It's not a pant and certainly not a DRESS pant. But the reality is that women have embraced leggings so hard that I feel as a stylist I must step in.
Most women do not look that great in leggings. Sorry but the way they are cut it's not set up that way. Most women are wider in the hips and leggings accentuate this. However, if you are a rare body shape where you're more boyish or narrower in the hips leggings can sometimes be a good idea.
The New York Daily news wrote a piece speaking up for the legging, which to me the outfits in the article might fly in a PR or fashion setting but not a formal work place setting.
Plus I've seen way too many women wearing low quality leggings where they are stretched so much in the butt region that they are transparent and not in a good way. It's a kind of window on the butt that I wouldn't recommend.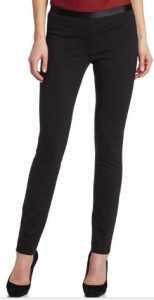 Yes the high end designers have started offering more dressy versions of leggings in a more sturdy fabric but still the cut is very close to the body and that in its nature will always be sexy.
Exceptions are Elie Tahari – leggings that skim the body rather than cling. They are like the difference between a lycra skin tight dress and a tasteful body skimming dress.
The first option is NOT work appropriate for most work environments. The purpose of most dress codes are so that you put your best foot forward but don't sexually awaken your co-workers. Right??
And let's face it men are attracted to women's bodies and wearing tight fitting clothing will do that. So I'm all for this rule because I see so much abuse of the legging. If I was seeing most women wearing the legging properly balanced with a dress, tunic or long jacket over it I wouldn't have a problem.
But most women are shaking and showing off the butt and that's just not appropriate for the workplace. Unless you work at Scores and in that case you're wearing too much!
Even my down-to-earth telecommuting brother, who was in a paragliding accident and has been confined to a hospital gown and stretchy sweat pants for two months, is looking forward to getting his swagger back with real pants. He's sick of "looking like he's coming from the gym every day".
I personally love the Elie Tahari double knit pant that has the feeling of a legging but is body skimming enough to give you a little room so that you're not showing any lumps and bumps.
The reality is that life has gotten more casual in dress and leggings Lulu Lemon, and athletic leisure has contributed to that.  Most people want to be comfortable but if you really want to put your best foot forward…formal it up a bit.