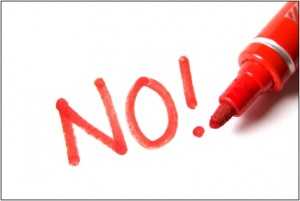 What Does Saying NO Have to Do with Style?
Have you ever been invited at the last minute to an amazing event with great networking opportunities, or a fantastic date, but you just didn't have the time to get dressed to perfection?  Did you muscle through, throw something slightly dirty on, put dry shampoo in your hair, and go anyway – or did you decline?
Lately I've been realizing how a simple "No, thank you" can be a powerful phrase in life.  I've had a lot of situations where this polite yet firm response was the best route.  The fashion editorial with a day's notice (which paid nothing); the last-minute European visitor who wanted a shopping trip planned and executed with care with less than 24 hours' notice; the date who asked me out for later that same day; the HuffPost Live media appearance with just 55 minutes to prep – all of these, I have turned down.
You'd think I'd be disappointed by all these missed opportunities, but instead I felt empowered. I realize that my image is so valuable, precious, and delicate that one bad appearance could tarnish my reputation as a style maven.
So I say, "No thanks, universe.  Send me something better next time," and have faith that what's in store for me in the future is better and brighter.
Want to take your style to the next level?  SixFigureStyle is coming!  Sign up here to find out when it opens its doors.