I don't know about you, but I crave cozy and comfortable clothing. So when it comes time to pick a pat, I'd much rather throw on sweats or leggings. Too bad we all know that's not professional.
Instead, look for a high quality "travel pant" – that's the technical term you can use while searching online. I've been putting my private clients in them lately, and everyone is raving about the concept of a pant that they can dress up or down and still move and feel comfortable in.
Travel pants are often in black, but if you keep your eyes peeled you'll find other colors. I own a beautiful olive version from Elie Tahari's factory store – sometimes their upscale sweats make Juicy Couture look ridiculous.
Pants that stretch and still  look chic + sexy: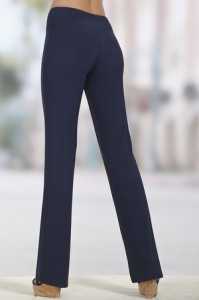 Boston Proper Paris fit perfect travel pant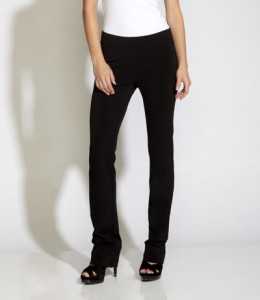 Karen Kane Wrinkle Resistant Travel Pants
(These come in plus sizes too)
Lululemon Straight To the Studio Pant
TravelSmith Ottoman Knit Bootcut Pants