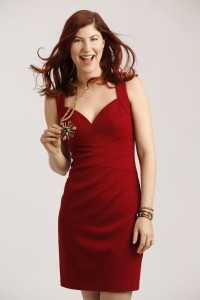 It's a myth that redheads can't wear red.
Everyone get's a shade of red in their 12 tone seasonal palette.
12 tone seasonal color is the type of color analysis which I'm trained in and do my style practice….. it is more precise than Color me Beautiful that has only 4 different seasons…. I digress.
So yes everyone gets their own shade of red for their coloring.
There are different kinds of reds-blue reds (with cool undertone), orange reds with warm undertone, and true reds which have a neutral undertone. Experimenting with reds can be fun.
Simply hold different red fabrics under your naked face (no makeup) in daylight in front of a mirror and look for a change in your skin.
Like if your skin has a cool undertone, blue reds will be best, and if your skin has warm undertones, an orange red will make your face glow.
For some, this is easy to see, but not for everyone.
If you want a professional to help you with your colors, my Style Flash package is perfect.
And here are some fun red pieces to brighten up your valentines day: