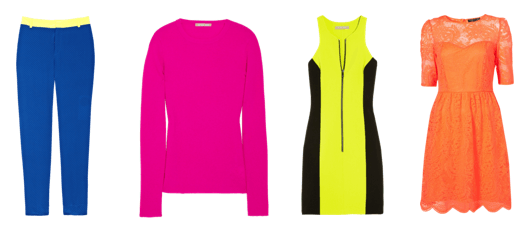 From left to right: Vanessa Bruno pants – SOLD OUT, Michael Kors sweater, Michael Kors dress, Topshop dress – SOLD OUT.
For several seasons in a row I've been one frustrated stylist due to the overwhelming glut in the marketplace of the colors black and grey. But after spotting color on the runway in a major way, I'm finally seeing MAJOR COLOR INFUSION in the actual stores. I've been doing a little bit of a happy dance. But here's the thing….I'm seeing BRIGHT colors: tangerine orange, cobalt blue, and yellow. Oh, and also NEON, which I saw a lot of hipsters wearing at Coachella in ways like neon sunglasses. It was a blinding experience. The challenge is that NOT every person can carry off bright colors without overwhelming her or his own natural coloring. These colors are just a trend – a trend that in a year or so may look dated. So I invite you to explore color; it's a wonderful thing! But explore it with an Alexandra filter (aka your stylist watching your back).
Brights look great on those with very pale cool skin, cool or black eyes, and either jet black or bright white hair. If you have large amounts of contrast in your own natural coloring, bright colors will look amazing. If you don't, it can overwhelm your face and features. It's about harmony. So before you purchase that fabulous shocking pink frock, hold it up right under your face. Without thinking about which celebrity wore this color, ask yourself truthfully, "Does this color support my coloring or fight against/overwhelm my coloring?" If it doesn't, walk away, and you can pat yourself on the back. Another closet disaster averted!