The last thing you want in the winter is to freeze your ass off and look ridiculous.
But how to look fabulous and still stay warm when it's freezing outside?
The perfect coat!
I've had to do a little coat makeover this week because my biggest "baddest" and puffer coat's zipper broke on Friday, just before the freezing weather arrived. January is a great time for sales on coats but not always the best if you want the biggest selection. A few purges ago, I gave away or sold all of my extra coats that I weren't regularly wearing. At first, I regret doing it until I hit Macy
It's on late Sunday night and it's snowing sideways. So no surprise Macy's coat department was a zoo! Everyone was looking for a new coat and almost everything was on ridiculous sale. I did discover a new brand of very well-made coats– Rudsak, who also makes RUD by Rudsak, from Canada.
Now, I would never recommend this kind of emergency shopping because you might end up buying something you don't really love, but I did find a decent Calvin Klein puffer in the color and style I wanted– brown with faux fur hood, and a belt that I like for only $150. One of the main reasons why I looked for such coat was because I thought the hood with zip up neck warmer was going to solve my cold issue. Besides, I have worn out my deeply loved DKNY red coat and it looks like it needs to be replaced.
You should take a gander at coats to see if there is anything that you really like. Sales staff can be pushy sometimes– just make sure you won't walk away with something you will not wear and love.
You know, there is something psychological about coat shopping. It's like bikini shopping, you do it when you just need it. I would suggest to you to shop for coats twice a year; at the start of the season when majority of the coats arrive and during sale time.
How many coats should you have in your closet?
A good coat wardrobe for NYC should consist of:
1 raincoat in fun color or print (forget boring tan unless it looks amazing on you)
1 very long, very warm, hooded, belted monster coat -puffer, fur, or wool
1 knee length fun color basic wool mid weight coat (mine is a red DKNY)
Fun night time coat for parties– maybe with a metallic or sparkle factor
Short lightweight coat for Spring/Summer (I always find myself removing a lot of such coat out of clients wardrobes as they often have multiple of this kind. Mine doesn't get much usage too)
To sum up, here a few tips to find the coat(s) of your dreams:
1. Firstly, take stock of your needs. Do you need a coat for dressing up, for work, or for a more casual life? How do you travel from day to day? In a car, subway, bus, bicycle, hired car, or on foot? How much time do you spend outside? For example, if you have a car and driver on demand, you may not need much of a coat or thick one, and gloves. But if you need to wait for the bus in the freezing temperature, or if you love to regularly walk your dog outside, you're going to need to suit up with a coat that falls below your knees. Just have a deep think about your daily and weekly needs for a few minutes to give you a good compass of what to look for. It's a big no to get a crazy and wild 'clubbing coat' when you are not really into nightlife. Walk away!
2. Shop in November and January.
3. The best time to shop is first thing in the morning when you are fresh, or just after dinner. Don't shop hangry. (hungry+tired)
4. Research online first and then see them in store for size.
5. Look at companies who specialize in coats, not in fashion. I've seen a lack of quality in fashion coat like Michael Kors'. It is a huge company but I'm very disappointed by the quality of its coat.
6. See the good coat companies section below.
7. Wait for a big sale day like Martin Luther King day.
8. Look for a coat in a basic or accent color that will go with most of your wardrobe of that season. I wear ALOT of brown and no black so I try to find coats in brown (my favorite neutral), red (my favorite accent color) or metallics (go with everything). Don't buy a coat in a strange weird color that clashes with most of what you own.
9. If black drains you in the face, don't buy a black coat.
10. Look for a coat with a hood and look for belt, princess seams, or cinched waist detail to keep you look slimmer. Attached hoods keep you WAY warmer than just a scarf and a hat. It keeps the warmth from escaping from the gap between your neck and your accessories
(For more details on how to look chic when it's cold read this>>post>>bit.ly/1UkrZF4 )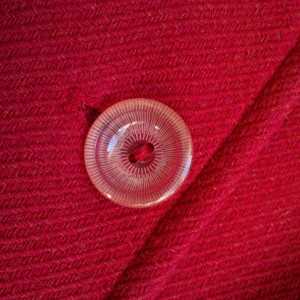 11. Don't get hung up on buttons. If you hate the buttons they can be swapped out! This can instantly elevate a coat. I changed the buttons on this coat by a quick trip to M+J (one of the wonderful resources I feature in my second book Vetted by a Stylist)
12. Hit the big department stores first and then graze on the boutiques. Macys is good for puffers, Lord and Taylor has great wool selection, as well as Bloomingdales and Nordstroms. Bergdorfs has also beautiful coats but price points are higher.
13. Once you're in a department store, identify the brands who are doing styles and colors that work for you. If you don't find your dream coat but think the brand is good for you, check out more on their official websites or other online retailers. Don't forget to look on Amazon and Zappos.
14. Check your coat or bags so that you can shop hands free. For example, Lord and Taylor has a coat check on their 8th floor, but a lot of people don't know about this much needed service.
15. Department stores have personal shoppers so if you are low on time call ahead and ask one to pull coats for you in your size, color and shape preference. Don't be shy to say no when you don't like any of the selections.
16. Make sure the color of the coat is flattering to your face and not draining.
17. Look at fabric content and care.
(From warmest to least warm)
Fur (sorry PETA)
Shearling
Down coat
Wool
Blends
18. It is better to get 'dry-clean only' coat in dark color as it hides dirt while light color is more difficult to maintain. Other than that, puffers are generally washable which is helpful, but you would want to check what the down feather content is. The higher, the better. Also take into account if there is any fabric that you are allergic to. The inside label will tell you exactly what you are buying. If it's got a high polyester content, it shouldn't be priced expensively and, if it is, you're just paying for the designer label.
19. Make sure the waist of the coat hits you in the right spot. I noticed this season that as a long torso-ed person, some coats had an empire waist or the belt placed too high for my shape.
20. Once you find a few coat options, take a few snapshots and sent them to a trusted friend or put them on social media to get some feedback. This is also helpful if you're going to be photographed. I tried on this puffer that on the hanger looked really nice but I looked like a marshmallow in it. Thankfully, my friend made that joke and I passed on it.
21. Price is important but consider your comfort first. Buy something you'll be comfortable wearing.
Here are some companies that have current coat options that I like:
Rud by Rudsak and Rudsak
Rud by Rudsak is the more affordable coat line because they use faux fur and Rudsak uses real fur. But when I tried various coats from both lines on in Macy's, I found that the RUD coats looked and felt warmer and also higher quality. Strange, I know. Although they do tend to have very overwhelming hoods that are better for big heads, they're not so good for tiny peeps.
Postcard
Very high quality. My favorite bronze raincoat is from them.
Mackage
Another company famous for their quality coats. They do a very streamlined asymmetrical puffer/shearling coat and have figured out that we ladies like a large hood but we also need our necks kept warm.
DKNY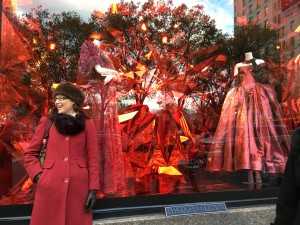 My "go to" red coat seen in this picture is DKNY that I got years ago on sale at Nordstroms for $80 at the waaaay end of the season. I wasn't in the coat shopping mode when I saw it because it was Spring, but I realized it was a wardrobe staple at an amazing price so I snapped it up and It has served me very well. The coat seems to repel water and dirt! I'm also eyeing another DKNY burgundy wave coat.
Elie Tahari
I've loved some of the coats Elie Tahari has offered in the past!
Laundry by Shelli Segal
They always seem to have flattering cut of coats. This ONE is good for those who need an empire waist or are hiding a pooch.
Calvin Klein
If you need a walking sleeping bag..ie you need coverage below the knees this Calvin Klein maxi down puffer is a great option and it comes in espresso and black. I've noticed it's not easy to find this length of a coat.
Ted Baker
Ted Baker makes some nice dressy city coat options like this navy Flared Skirt coat.
LL BEAN
Known for quality this mid length down coat has nice seaming that is slimming.
Eddie Bauer
Eddie Bauer made their mark on outerwear. This coat has lots of nice color options including their navy that looks teal- like. Size wise, they have petites, plus, and tall in addition to women's which is really handy.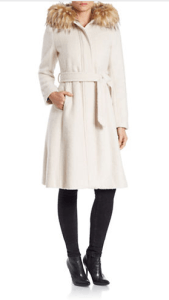 Eliza J
I tried this Eliza J  – It looks like a winner to me! I put it on Facebook and it got a thumbs up from Diana Rowan who said " looks like a chic eskimo"
Uniqlo
Uniqlo's coats are very lightweight and easy to pack which is handy for the fellow global travelers.
Have a coat story to share with me? Comment down below and let me know what has worked for you.
(Special thanks to Barrie Blake who snapped this wonderful shot of me in front of the Bergdorf Goodman red holiday window)