One of the things my clients always ask is what to do with their stuff once they're done with it. Is there a good place to sell it all?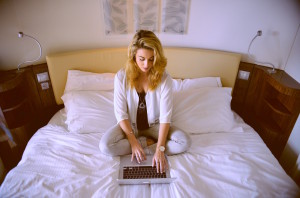 The online world has decided that consignment is best served – online. What used to be a chore of schlepping your stuff around to various consignment shops and direct pay places like Buffalo Exchange has now turned into a much more seamless experience, thanks to a lot of new options available in the online selling arena.
In the past 2 years I've seen a big rush of new companies approach me wanting to sell my clients' high end designer, never-been-worn wares (especially accessories) – online.
It's like they all got the same idea at once!
I decided to try out some of these services to see the level of customer service they offer. Here are the results:
These guys are super selective about the pieces they take. I left a full bag for them with my doorman and they only took a few items. Over the next months I'd get a small check here and there. Always around $50 -$70. Nothing that crazy.
2. I-ella (now out of business)
I created an online closet profile and sent them what I thought would sell. Visitors could then 'shop my closet'. My 'closet' even made it to 'featured stylist profile'.
They did sell a few of my items but the majority got sent back to me. What I made was nominal ($93.75 for 2 items out of 25 sent).
3. EBAY
I posted my Vivienne Westwood peplum jacket on eBay. It was fairly easy to do.
The first auction didn't meet its reserve price. After re-listing, it got bought by a woman in Ukraine for $101 (including the shipping fee).
4. ThredUp
ThredUp are focused on mid level brands (LOFT, Banana Republic etc.) but prefer near-new pieces or items with tags still attached. I sent a huge bag off to them (they covered shipping), but they didn't take a single thing. I had some nice brands but all items had been worn before so I think that's why they passed.
Then I had to pay a flat fee to have it shipped back and find new homes for those unlucky items. Kinda a bummer.
5. Cashinmybag
This site bases their business model on gold-for-cash mail order. Debbie Blank claims they are different from the others because they pay for the goods up front. Kind of like an online high-end version of Beacon's Closet.
They contacted me and requested access to my client's closet discards. I said I would give them a whirl and decide.
I then sent them about 10 personal items for appraisal – all designer accessories in various stages of wear. Shipping cost me $0 and they even provided the box and the label. Here's what I got back from the appraiser: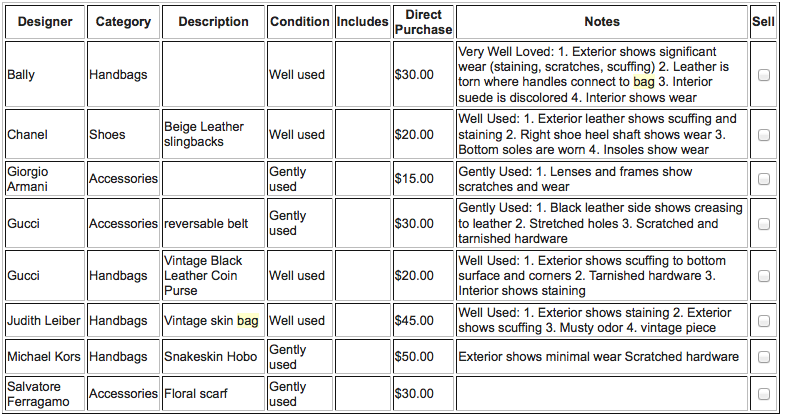 I got to decide what to sell just by checking boxes and then get the rest shipped back to me free of charge. Note: if you send them counterfeit items, you will have to pay a fee to get it back. Sorry!
I didn't get a lot of money per item but they did offer to take everything I sent them off my hands, which I thought was pretty great. I decided to get rid of the whole lot so I got a check for the total amount of $240. Nice and easy.
There are more consignment, resell, and donation resources in my next book Vetted by a Stylist which is entering the final stages as we speak.
Get a sneak peak and the skinny here>> bitly.com/1HsOhSu