I just donated 24 items to NYU theatre department.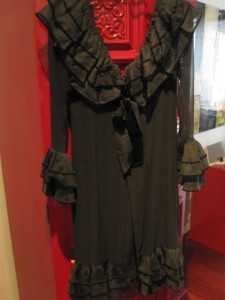 I didn't do it for any donation credit. I did it because at Brooks School, where I spent four years of high school, I spent most of my free time hiding in the theatre. (Yes, I was very shy in high school and a typical introvert who was learning to be more visible.)
I danced, acted, sang and worked in the costume department and made a lifelong friend with the theatre director.
So the theatre in a way saved me from all those awkward difficult years.
And when faced with a closet full of gowns and fabulous frocks that I no longer wear, I realized they were crazy/beautiful enough
to be on the stage.
Most of them were from my ballroom days but one of them was a black 1960's couture level cocktail dress which
had been given to my Mother from my Father on their honey moon.
It was a bit too extravagant and over the top for my Mother to get regular use out of it.
I remember her wearing it for my Father's birthday the year she baked him a piano cake.
Yes, she's that talented of a baker. But this dress was the most beautifully made dress I had ever seen and I coveted it.
Luckily she tired of it and passed it down to me in Junior High when I promptly started wearing it for dress up and Halloween costumes.
I used it as "fabulous lady' and punk witch in which I spray painted it pink and green with non-permanent hair spray dye from the drug store.
I was kinda crafty like that!
I kept it over the years but never really wore it as an adult except once or twice in my apartment.
I stopped wearing black just post college days. So the memories were very strong and preventing me from getting rid of all these un-used items.
But then I thought to myself….if they could be of some use….be on stage maybe….have another life besides sitting alone in my apartment never leaving the house….well that would be acceptable and even comforting.
So I took photos of all of the beloved items and sent them on their way. I find in general I'm resistant to get rid of certain things but once I find a new home for them, where they can do some good, it shifts my whole attitude about it.
Like when I take professional outfits that are in good condition to Bottomless Closet or Dress for Success.
They need it more than I do.
The trick is to reframe your tossing as giving away to another source who needs or wants the item.
So I ask you what are you holding onto so tightly and why?
Many magazines show you tips to edit a closet but most don't cover the emotional part of letting go.
And that's why I created a program so that you could have moral support during the process. I found with working with clients just having my presence made it much easier for them.
Join the demand self styling video program CLOSET :: CLARITY which will show you how to cleanse your closet with ease and reclaim your style.
Join over 500 women who have found clarity and confidence.
Not ready for the full program?  That's cool.
Start Small~ join our 3 day challenge to get some momentum>>CLOSET :: CLARITY STYLE CHALLENGE