Last week while getting my private clients ready for the fall and holiday seasons I came across this piece that could truly work double and triple duty this holiday season.
We found a short metallic quilted bolero by Carmen Marc Valvo in pewter which could be styled with jeans for a home holiday party, over a black dress for a fancier affair or with a black pencil or A line skirt. It's also office friendly which is great for those days when you don't have time to change between work and play. It's also a great piece for petite women.
If this piece is too much for your budget you can always look for a black or metallic sparkly cropped jacket or shrug and it will provide the same effect.
Are you overwhelmed by the number of holiday parties you will have to dress for this year? I know it seems early to shop for the holidays but it's right around the corner and I know how busy we all get.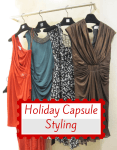 In honor of the holidays I'm offering a brand new holiday promotion that will get you ready and feeling confident for the upcoming season.
<< More info here