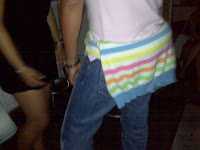 Oia Santorini Greece is my idea of heaven. Already I have some observations about island life. 1.Local greeks seem to place friends first and customers second-not sure why but they would chat away while you wilt in the doorstep-a total change from nyc.
2.Santorini's water is a bit like a stripper-beautiful, stunning, takes your breath away but you can look but not touch.
3. Santorini's caldera and cliff living reminds me of a barbie fun house cut in half and twisted.
4. Stilettos and heels are really a no go because of the cobblestones. An excuse to wear flats…it's going to be hard to leave.
5. So many italians…so little time. I've especially enjoyed the italian euro fashion. They love the preppy euro look and frequently fold their candy colored sweaters and then roll them to tie around their waist. In usa it would look gay….here it's cool.
stay tuned for more..