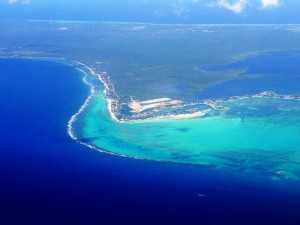 Where to Eat+Shop+Sleep in Grand Cayman Island for the Chic New Yorker
Are you planning your winter escape to the Caribbean? Consider Grand Cayman Island. It is gorgeous, safe, and has many of the amenities of the mainland (hello, Kirk Market with goat yogurt and gluten-free options!). Which brings me to another great aspect of the island: it's great for gluten-free, dairy free, vegan and vegetarian travelers.
I popped down to Grand Cayman Island to enjoy some of the best snorkeling and crystal clear water in the world. A direct JetBlue flight from JFK made it super easy. While there, of course I had to hunt out all that is chic and fashionable on this Caribbean island.
Here are the top hotspots from a style expert's perspective:
Island Destinations
Seven Mile Beach is where all the action is, but West End has some quieter stretches of sand.
Barkers National Park offers beaches with no nearby condos or hotels, so if you're looking to experience the wild, it's the place to go.
Flow~Therapeutic Movement, run by the wearer of many hats Kate "Cookie" Dunn, goes the extra mile by offering personal attention. It's also one of the most beautiful yoga studios I've ever seen – cork floors, water features, free-range chickens out back, and located next to a plant store. They offer Anti-Gravity Yoga. (Take the restorative; it's more active than you think.) Dunn also does killer massage in her own signature style, which merges Yamuna and deep tissue. You come out taller and longer, kinda like being ironed out. This is a true oasis on the island.
Stingray Tours. Book a small trip with Chip and Kevin. You'll spend a day away from the crowds on a cruise ship, which is a big bonus. Get a unique perspective of the island, including . one-on-one action with the stingrays and a visit to one of the best snorkel spots (unnamed – believe me I asked!). Contact stingraysailing@gmail.com.
Where to Shop
Shopping in general on Grand Cayman Island is typical of Caribbean destination. Not much is locally made, and expect to find lots of synthetic materials and imported cheap stuff. However…
Funky Monkey stocks some nice beachwear, beach bags, and accessories.
Ritz Carlton Wave, a boutique, has beautiful but expensive clothing. They also stock local jewelry but at a hefty inflated price. Save your money and shop for signature pieces in NYC. While you're there, check out Rain, the spa's boutique.
Camana Bay is the chicest mall I've ever been to. Meant to become a self-sufficient town, it takes the whole concept of a dining and shopping hub to a new level. It has the things you expect in a mall, like a great bookstore and movie theatre, but also has a farmers' market and fabulous landscaping with shaded nooks and water features peppered throughout the space, allowing visitors to sit, read, chat, and enjoy the area without needing to purchase a thing. The details and level of quality of workmanship are inspiring and create an enjoyable environment to shop or even hop onto their free WiFi.
Where to Eat
Morgans Harbour Seafood Restaurant offers a killer dockside view, casual outdoor atmosphere, friendly host, and good prices (a rarity on this island). Oh, and I can't forget the most important part, excellent food.
Jesse's Juice (in Camana Bay) is great for those who are vegan and gluten free. The menu includes fresh-squeezed juices, salads in a jar, gluten-free vegan desserts, and more.
Island Naturals became my favorite gluten-free, vegan healthy spot for takeout or a quick meal. Get any of the bowl options over quinoa.
Bread and Chocolate is a vegan/vegetarian restaurant that sources local ingredients and makes much of what is on the menu in-house. They even make their own vegan ice cream!
Kirk Market is huge and stocks everything you need to make you feel like you are in the States.
SEVEN at The Ritz is the best place to splurge on a meal.
Hotel Alternatives
AIR BnB is the way to go if you want to do the Caymans on a budget. Rent a beach chair at Royal Palms, or bring your own towel down to the beach.
Sunshine Suites is right across the street from The Westin and has access to the same beach.
Coral Stone Club right next to The Ritz rents condo apartments with a full kitchen.
Boutique Hotel Cottonwood is a bit off the main drag. If you want seclusion and to be able to cook, it's a good alternative to the uber-popular hotels.