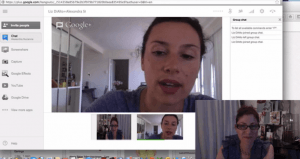 Now that my online presence is growing, I'm doing more and more communication via skype and google hangout.. (plus, I've got a new beau who lives on the west coast and travels a lot). So, in both my personal and professional life, this has become a major part of my communication forum and let me tell you something about skyping…it's a whole new ball of wax.
So much of our outfit is lost or invisible to the basic cameras which our laptops come equipped with lately and it's a shame. With the new format of really a tight head-shot, I've decided that we really needed some tips to have you looking your best and representing your brand with style, don't you agree?
1. Hair matters! We're not talking about experimenting with new hairstyles here… do what looks good on you and you can thank me later.
2. Accentuate the shoulders! Flutter sleeves, beaded embellishments, and any details to the shoulder area of your dress or top adds details and visual flair.
3. Makeup is a must. You need to wear foundation, mascara, and lip gloss for sure. Sometimes the camera ends up making you look tired, so "night" looks with makeup are great. You'll find you look glamorous instead of drowned out.
4. Good lighting can make or break it so test this previous to your call. Adjust one light so that's it's angles towards your face, but raises and highlights your facial features. A second light, above your head to highlight your hair is fabulous, and if you have a third light available… light your background space.
5. Supersize your accessories. You don't want to distract from yourself with the jewelry but you want to be stylish. Find something that flatters your outfit and compliments you!
6. Select your color of top wisely. Ask yourself does it brighten up your face? You want to avoid any colors which bring your face down.
7. Experiment before you start that online session to make sure your lighting and voice are great.
8. Get support and feedback from others. Check out my Style for the Spotlight one to one package will will help you get your look in shape for your next media appearances. Click here>>>http://bit.ly/19Fc250
Good luck and happy skyping!