Despite being a stylist I've never been much of a perfect folder.
I never worked in retail where I had to perfect the perfect t-shirt fold.
My own closets are reasonably organized but not anal.
I've always wanted prettier, more perfect closets but haven't invested the time or money. I've aspired to have my closet look like it's out of Elle Decor but I know how much those are staged for perfection and aren't rooted in reality.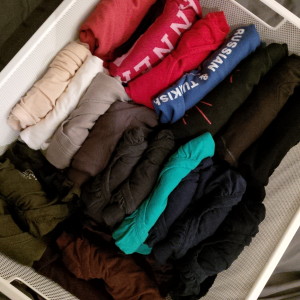 We teach what we want to learn.
At the end of the day, life is short.
But I read a great article in New York Magazine on this book by Marie Kondo from Japan which is a huge runaway success. It's on my list to pick it up….
Meanwhile, just from the article, she explains how she folds things so that they can line up in the drawer to give access and sight to every single item. Brilliant! My old way was folding and stacking t-shirts, pants, pajamas etc. But I tried out this new method and gave my drawers a little makeover.
Not only can I now see all my choices at once, I now have easier access to each piece.
I love getting one step closer to organized perfection. I finally realize why a lot of my clothing isn't being worn… it's on the bottom of the pile and as a creature of habit I usually grab the top most item.
There could be other reasons why you are only wearing 20% of your closet and if you feel you need expert 1:1 help please connect with me.
Check out the article HERE and see if you like this new way of folding. Share your thoughts and comments down below.
Does your closet need a little spring cleaning. Not sure where to start?
Join over 500 women for Closet Clarity and we will go on the cleansing journey together.
GET the Free 3 DAY CLOSET CLARITY CHALLENGE NOW