Recently I've been asked for style must haves like the LBD.
Well, don't hate me, but I don't believe in them!
We are all unique so why should we all dress alike?
I myself do not own a little black dress. ( I wore brown to the last funeral I attended and no one noticed)
Why? Because black looks terrible on me.
It does nothing for my natural coloring.
And 75% of the north american population doesn't get black in their color palette (meaning, most women are wearing a color that ages their face instantaneously).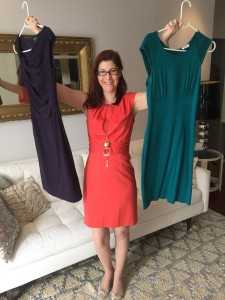 As I go deeper and deeper into my work as a personal stylist serving successful time starved women.
I've found little or NO use for fashion week or fashion magazines.
I really can't subscribe to the notion that we should be excited by checklists like,

"10 essential items every stylish woman must have"

I found out what works for me and my formula is as follows:
1. Wear your best colors for you…not Katy Perry and especially under your face.
2. Select a Shape and cut of a dress that looks flattering on you. Including a flattering neckline and hemline.
3. Pick a dress that fits in with your unique style. It has to FEEL like you.
4. Make sure it will fit into your current lifestyle so that you actually WEAR it.
And I base my client's wardrobe master plan on their life and lifestyle.

What will make it easy?

What will make them feel supported?

It's not about fitting into the same box every one else is in.

If your life demands jeans why would I tell you to buy a suit if it's not you.

I do believe that a dress in the right color and right shape and fabric for you can work wonders.

Off my soapbox now!