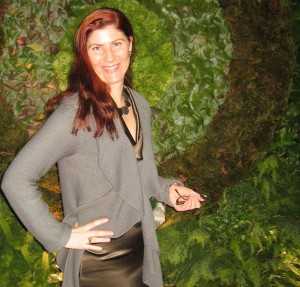 Alexandra in her beloved green Moth sweater coat.
Do you suffer from favorite-itis?
Well, you're not alone. I know I do and from what I've experienced, it's running rampant…I know I do!
Personally, I have my favorites in my wardrobe and then I wear them to death. I couldn't live without them.
But I never think to buy multiples until it's too late. Until NOW!
You never realize how important a garment is until it starts dying.
…Like with my perfect gold+bronze Gucci purse… it goes with everything!
…and my ¾ length scoop neck, brown, thin, cotton top, with perfect rolled edges from Old Navy!
…then there's my perfect red DKNY knee length coat!
…and I can't forget my Deletta thin, cotton brown fitted and cropped cardigan which goes with everything!
…or what about my green, ruffle sweater coat which makes plane rides chic and cozy by Moth?
How can I let them go? Part of me wants perfect exact replicates, but why? Well because they are so perfect for me, that's why!
But I do have three simple solutions to follow with your must have wardrobe "go to" pieces; just don't wait until it's too late!
BUY MULTIPLES
I have some clients who like to buy multiples of their favorite items. The only issue I've seen with this is that it can start to feel like a uniform and when that happens, your favorite piece, becomes boring and mundane,  For others though, wearing a 'uniform' of some type is very relaxing and easy. For example, I've heard that Obama doesn't want to make banal decisions so he stocks the same blue  or gray suits to wear every day. He credits this wardrobe cheat with productivity. I say, whatever floats your boat! If it works for you, that's what is important.
MATCH THE FEELING
Find pieces that share the same similar feeling for you. Keep a running list of things to look out for when browsing and window shopping. For example, I recently found a sweatshirt dress in brown which can fill the gap of the green sweater coat. It's feminine and cozy, and is now a new favorite.
LET IT GO
Thank your beloved pieces as you give, donate, or toss away. If you want a memento then take a photograph of yourself in the piece to refer back to it later. It's much better than wearing something until it's falling apart and you'll have a priceless memory to look back on and cherish.
What about you? What have you never been able to replace in your wardrobe that you are forever missing?
I'd love to hear about your beloved pieces in the comment section below.