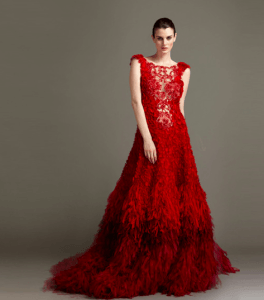 New Couture Designer Alert!
It all started with a red dress. Of course, anyone who has been reading for any amount of time knows that I have a soft spot in my heart for red dresses; red is the splash of color in my branding and makes everything much bolder!
And if we're talking about doing red and doing it well, one must recognize Fabiola Arias. Well, as it turns out the Cuban-American designer is just a stone's throw away from me on 37th street, in the garment district. So Fab!
I am so looking forward to seeing a New York retailer add her frothy gowns to their collection and soon. Her work reminds me of gowns by Theia, which are shaped from a layered and graduated design of lustrous satin petals, each accented with a single bead.
Talk about artistry at work. While Fabiola was finishing up at Parson's, Ikram in Chicago picked up her line.
Katie Holmes wore this red beauty in a recent ad campaign for Bobbi Brown. The gowns are currently stocked in the couture salons of Neiman Marcus. Joe Zee has interviewed her on QVC so she's on the radar. I can't wait to see her gowns dominate the red carpet-the work is Oscar worthy!