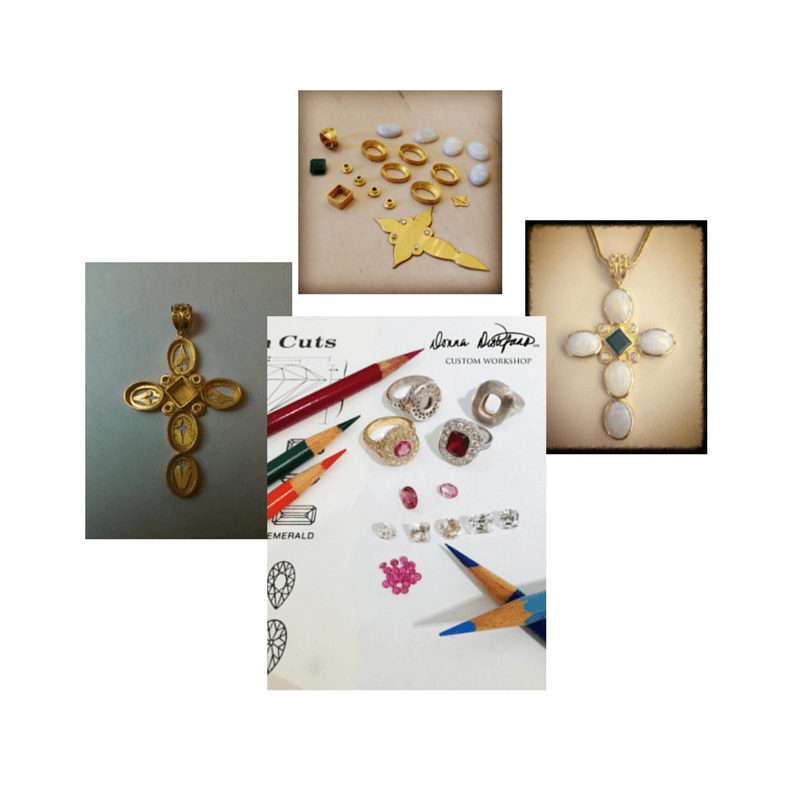 I met Donna Distefano over 10 years ago at Chelsea Piers gym.  We connected over chilling on a sun deck and loved talking about style and design.
When I was hired for a first-time bride in her 50's with discerning taste and not a size 2 body I knew I was in for a challenge.  I brought in a custom designer for the bodice (we found the ideal skirt at the Designer Loft) and brought in another designer for her rehearsal outfit.
I brought in Donna Distefano to create some "one of a kind" earrings for the occasion.  I knew that she would be the perfect fit for my client. The rest is history and I'm so honored to interview and feature Donna in my upcoming book Vetted by a Stylist.
Donna can you tell me how you got into custom design work?
My extensive background in museum reproductions and restoration provided the perfect springboard for me to launch the bespoke and custom aspect of my business. I find estate and heirloom jewelry captivating and I have a keen eye for what should be preserved and which pieces should be reinterpreted. While I was always willing to take someone's old jewelry and rework it into one of my collection designs, in 2006 I received the opportunity of a lifetime.  The managing editor for InStyle Magazine contacted me and asked me to redesign her diamond solitaire and create a significant cocktail ring. They turned the "before and after" into a feature article and soon I found myself remounting gemstones for clients from all over the country. Shortly thereafter, another fashion editor asked me if I would restore a special family heirloom as a favor. Word travelled fast that I was doing these precious restorations and reinterpretations. In 2010 New York Magazine telephoned me, interviewed me and named me Best Of New York – Jewelry Repair. So in a way you could say I got into custom work because the editors made me do it. 
What is the most challenging part of the custom design work?
Custom design is a pleasure when I have a commission that's based on my design aesthetic. Occasionally someone will ask me to knock off another designer, then I have to politely explain why I would never copy another designer's work and why they should support the designer or design house that made the original. The challenge is keeping my cool when someone asks me to do a knock off.
What are your design influences?
I am inspired by poetry, architecture, paintings, and music, but nature informs upon my work the most. It's a reminder that nothing is original. Every pattern, color mix, and texture combination has all been done before. I draw inspiration on my walks through Chelsea to and from work each day. My mind is always translating what I see into jewelry. When I'm in Italy I breathe in the surroundings created centuries ago. Precious and inspiring indeed. 
What do most people not know about jewelry design?
Aside from the historical aspects that one could learn through art history and museums, I would say the one thing that surprises me is that many people don't know that it takes many years to develop skills. In the old days we had to sketch, render with gauche, develop mechanical drawings for a model maker to read, we learned model making, fabrication of all precious metals, and if you were lucky, you discovered you had a design sense. It's like asking an architect to design a building without knowing anything about construction. A true jewelry designer is part scientist, part engineer, and part artist; someone who has this rich background of experience in the field and then uses all these skills to create something uniquely their own.
Donna is just one of the many talented people I feature in my book Vetted by a Stylist New York Edition.
For more info on my book click here>> http://alexandrastylist.com/vetted-stylist-book